Welcome to our parenting and family blog! Today, we're stepping outside to the playground as we dive into the topic of commercial swing sets. These aren't just any ordinary backyard swing sets; commercial swing sets are designed to bring joy to multiple children at once, whether at parks, schools, or community play spaces. They are built to withstand the test of time, weather, and constant use, providing maximum fun for all age groups.
But what exactly is a commercial swing set? It's a durable, robust swing set specifically designed for public use. Made from high-quality materials such as wood, metal, or even plastic, these swing sets are crafted to endure heavy usage while offering an exciting play area for children.
In this article, we will guide you through the process of selecting the best commercial swing set for your park or backyard oasis. We'll discuss what to look for in terms of materials, safety features, and design, and highlight some top brands in the industry.
---
Importance of Quality Commercial Swing Sets
Investing in a quality commercial swing set is vital for several reasons. Firstly, these swing sets are going to see a lot more use compared to your average backyard set. They need to withstand the energetic play of multiple children daily and often simultaneously, which requires durability. A well-built, sturdy commercial swing set made from high-quality materials ensures it can stand up to this kind of heavy use.
Secondly, safety is paramount when it comes to children's playground equipment. A quality commercial swing set is designed with safety in mind, incorporating features such as smooth edges, secure swing chains, and sturdy swing seats to protect children while they play. Moreover, the best commercial swing sets are built to meet safety standards, giving parents and caregivers peace of mind.
Lastly, a quality swing set provides maximum fun! A well-designed, attractive swing set can transform any playground, park, or school yard into a hub of activity and enjoyment. It encourages physical activity and exercise, promotes social interaction, and provides children with a sense of thrill and motion that only swinging can offer.
---
Key Factors to Consider When Choosing a Commercial Swing Set
1. Material: Commercial swing sets are primarily made of wood or metal. Each material has its own advantages. Wood offers a natural aesthetic and can be treated to withstand harsh outdoor conditions. Metal swing sets, typically made from galvanized steel, are sturdy and durable, able to stand up to years of vigorous use.
2. Safety Features: The safety of the children using the swing set should always be the primary concern. Look for swing sets that comply with safety standards, have secure fastenings and chains, smooth edges, and sturdy swing seats.
3. Design and Features: Commercial swing sets come in many styles, some with multiple bays for multiple children to swing simultaneously. Others include additional features like slides, climbing walls, or even wheelchair swings for accessible play. Consider the age and abilities of the children who will be using the equipment.
4. Brand Reputation: Some brands are known for their high-quality construction and commitment to safety. Brands like Adventure Playground Systems, Gorilla Playsets, Lifetime, Backyard Discovery, and Sportspower are well-regarded in the industry.
5. Installation and Maintenance: Consider the installation process and ongoing maintenance requirements. Some swing sets may require professional installation, while others can be set up with some handy DIY skills. Maintenance can include regular safety checks, tightening of screws, and upkeep of the material, such as re-staining wood or checking metal for rust.
If you want some advice on how to create the perfect playground surface, check out this short video:
---
Top Brands for Commercial Swing Sets
When it comes to commercial swing sets, some brands consistently rise to the top due to their commitment to safety, durability, and innovative design. They offer a wide selection of styles to suit many age groups and provide maximum fun for kids. Here are a few we highly recommend:
Adventure Playground Systems
Adventure Playground Systems offers a wide range of commercial swing sets for sale. They provide various types of swings, including baby swings, belt swings, tire swings, and more.
Adventure Playground Systems offers customization options like color selection and seat arrangements to meet specific playground requirements.
The swing sets are made to withstand heavy use and outdoor elements, making them suitable for community play spaces, school playgrounds, parks, and other children's areas.
Adventure Playground Systems has been manufacturing playground equipment for over 20 years and ensures that their products meet the highest safety standards. Customers can browse their online inventory and contact their knowledgeable team for assistance in planning, designing, and installing commercial swing sets. Adventure Playground Systems is committed to providing safe and quality equipment for parks and playgrounds.
One of their most popular options is the simple but classic Heavy Duty A-Frame Park Swing Set.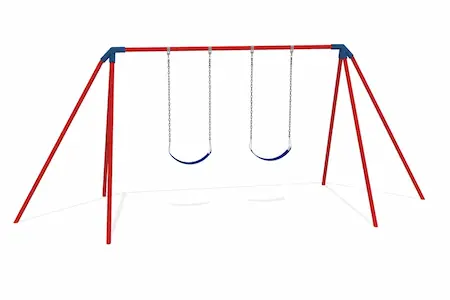 Adventure Playground Systems offers a Heavy Duty A-Frame Swing Set for sale. This swing set features a classic design and is suitable for large play spaces. The frame is made of 2-3/8" heavy-duty steel pipes for the support legs and a 3-1/2" steel swing beam on top. The frame is available in a choice of powder-coated colors or galvanized steel. The swing set includes two standard belt swings, two swing hangers, and two chains per bay, with options to upgrade the seats.
The structure size is 20'9.63"L x 12'10.5"W x 10'H, and the recommended use zone is 41'7"L x 40'3.5"W.
Customers can choose from various frame and seat colors to customize their swing set.
You can purchase an ADA compliant swing (aka wheelchair swing) separately as well.
---
Gorilla Playsets
Known for their robust and high-quality construction, Gorilla Playsets creates a wide range of commercial playground swings. Their swing sets feature numerous play options, from tire swings to climbing walls, making sure that kids have a variety of activities to enjoy. One of their more luxurious and certainly park-like swing set available is the Gorilla Playsets 01-1021-AP Treasure Trove I.
Gorilla Playsets 01-1021-AP Treasure Trove I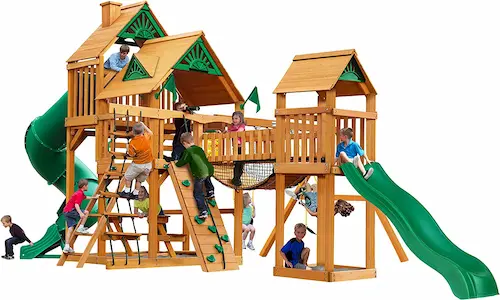 This is a premium playset designed for children aged 3 to 11 years old. It offers a wide range of activities and features, including a clatter bridge, rock wall, and wood roof. The playset is made of high-quality cedar wood, which is naturally resistant to rot, decay, and insect damage. It comes with a sturdy swing frame and swing beam that can support a total weight capacity of 800 lbs. The playset is designed for easy assembly and is backed by a manufacturer's warranty.
Key Features:
Premium cedar wood construction
Tongue and groove wood roofs for weather protection
Clatter bridge and tower for added play space
Rock wall with climbing rope
Soft rubber-coated swing chains
30-day return, refund, or replacement policy
---
Lifetime
Lifetime commercial swing sets are designed with safety and durability in mind. Made from heavy-duty, weather-resistant steel, these sets are built to last. Many styles also feature fun additions like monkey bars or trapeze bars, providing even more ways for children to play and exercise.
One of their most popular options is the Lifetime Monkey Bar Adventure Swing Set.

Key Features:
3 Belt Swings: The swing set comes with three belt swings, providing multiple options for swinging fun.
Trapeze Bar with Gym Rings: Kids can enjoy the challenge of the trapeze bar and gym rings, improving their strength and coordination.
Fireman's Pole: The fireman's pole adds an exciting element to the playset, allowing kids to slide down quickly.
Monkey Bars: The monkey bars are a favorite among kids and offer a great way to improve upper body strength.
9-foot Wavy Slide: The wavy slide adds an extra thrill to the playset, providing a fast and fun way to descend.
All-Weather Resistant: The swing set is designed to withstand various weather conditions without cracking, warping, rotting, or splintering.
Low Maintenance: No staining or painting is required, making it easy to maintain the set's appearance.
Rounded Edges: The playset features rounded edges and covered plastic caps to ensure safety during play.
---
This 8-minute video includes some great ideas on how to upgrade your backyard while keeping it kid-friendly:
---
Backyard Discovery
Backyard Discovery offers a great selection of wooden commercial swing sets. Known for their aesthetically pleasing designs, these sets not only offer fun but also enhance the overall look of any community play space or park playground.
One of their more popular options is the Backyard Discovery Mount McKinley All Cedar Wood Swing Set.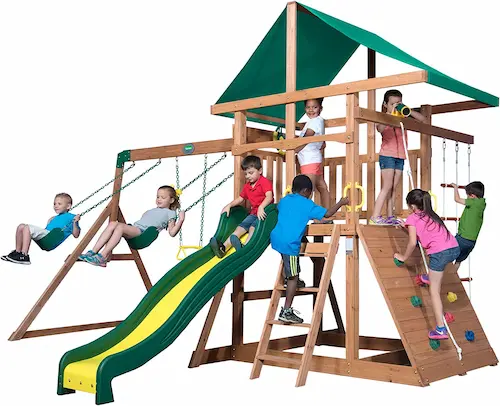 Key Features:
Double rock wall climber with climbing rope
Full-width climbing rock wall and 6.5 ft rope ladder
Large open-air canopy fort with car wheel and telescope
Wave slide with higher rails
Sandbox, fort, steering wheel, and telescope
Flat step ladder for easy entry
Made with 100% Cedar wood and chemical-free stain
3D interactive assembly instructions available through the BILT app
1-year full warranty and 5-year pro-rated warranty on wood
---
Sportspower
Sportspower offers commercial swing sets designed for fun and safety. Their metal swing sets are durable and come in many styles to suit different age groups and abilities.
One of their more popular options is the  Arcadia Outdoor Heavy-Duty Metal Playset.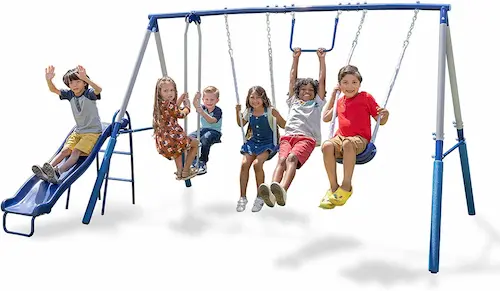 Key Features:
2 swing seats, 1 trapeze bar, 1 two-person glider, and 1 wavy slide.
Heavy-duty, weather-resistant steel tube construction.
Powder-coated paint finish for durability.
Vinyl-covered chains for hand protection.
Meets or exceeds ASTM safety standards.
Supports up to 600 pounds.
---
In Conclusion
As you can see, investing in the right commercial playground swings can transform any community play space or backyard into a hub of excitement and exercise. Whether you're after metal swing sets or a classic wooden frame, we've got you covered. Don't let the decision swing you off balance! 😉
Click on the links to shop these top-notch swing sets today. It's time to add a touch of thrill to your playground!
---
Recommended Reads
---
Questions and Answers
What is the best brand for a swing set?
Selecting the best brand for commercial playground swing sets hinges on your specific needs, the age groups of the kids, and the available space. Some top brands in commercial playground swings include Gorilla Playsets, known for its robust construction and wide variety; Lifetime, acclaimed for its durable, safe steel swing sets; Backyard Discovery, loved for its aesthetically pleasing wooden swing sets; KidKraft, admired for its innovative designs and quality; and Sportspower, recognized for creating inclusive swing sets, even featuring wheelchair swings.
How tall are commercial swing sets?
Commercial playground swing sets vary in height, with many styles available. A typical swing frame might stand between 8 to 12 feet tall, with a top rail high enough for plenty of fun, yet safe for various age groups. Always consult with the manufacturer for exact dimensions.
What swing sets last the longest?
Metal swing sets, particularly those made of steel, tend to last the longest due to their durability. Brands like Gorilla Playsets and Lifetime offer playground equipment designed to withstand heavy use, providing maximum fun for generations. Always check for quality construction.