Hey there! Isn't it a joy to see the sparkle in a kid's eyes when they spot a shiny car zipping by? Well, how about we amp up that joy by a notch? Imagine the thrill they'd get from holding their own set of car keys! Enter - electric cars for kids.
These mini marvels are just perfect for our little adventurers. It's not just about the fun rides; it's a safe, controlled way for them to get a taste of driving. What's more, they're designed to mimic grown-up cars, with cool features like headlights that really work, and even sound systems! Just picture your kiddo feeling all grown up, cruising around the block or racing down their own little track as part of their day-to-day games.
And don't worry, there's an electric car out there for every kiddo. They come in all sorts of styles, with varied features and different price tags. So, you'll find something that's just right for your child.
But choosing the right electric car might seem a bit daunting, right? Don't fret! We've put together a handy shopping guide to help you out. It's got all the info you need to pick the perfect electric car, safety pointers to keep in mind, and even our top picks of the best models in the market right now. So, are you ready to get started? Here we go!
How We Choose
We did our homework and dug deep into a myriad of factors to ensure that your kiddo gets the best experience possible.
First off, we took a good hard look at the different kinds of battery-powered cars out there. You see, some are specially designed for youngsters, while others are more of a one-size-fits-all deal. So, we wanted to ensure we're focusing on those that are kid-friendly.
Next up, we went all gearhead and delved into the nitty-gritty of each car's power and performance.  And of course, we didn't forget to do our homework on customer reviews. Nothing beats hearing from people who've already tried and tested these electric cars.
In a nutshell, we did our best to handpick the best electric cars that are sure to make your 10-year-old's driving experience a memorable one!
OTTARO 24V 10AH Ride on UTV Cars 2 Seater 2x200W Powerful Motors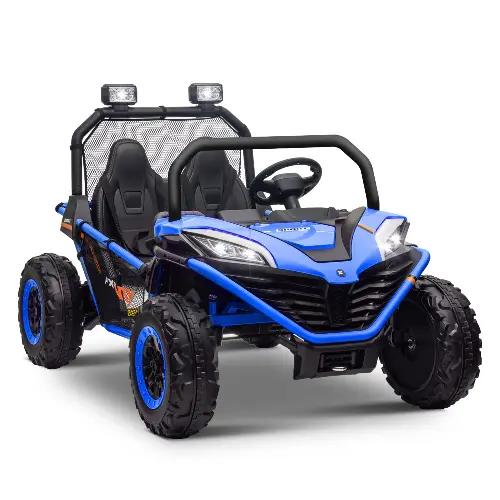 The OTTARO 24V 10AH Ride-on UTV Cars 2 Seater is an electric car designed for kids, equipped with a metal frame, EVA wheels, two powerful 200W motors, and a Bluetooth-enabled music system. The vehicle, capable of speeds up to 4.7 mph, also includes a remote control for parental control, LED lights for night-time fun, and a spring suspension system on both front and rear wheels for smooth rides. A unique feature is the removable net bags and 20-inch two-seater design, allowing two kids to enjoy the ride on cars, together. It's designed for children aged three years and up, weighing up to 130 lbs, and is ranked #60 in Kids' Electric Vehicles on Amazon.
Reviewers of the product have shared mixed feedback. Positive reviews commend the sturdy build, easy assembly, good driving performance on various terrains, and the thrill of the LED lights. Some customers also appreciated the dual-speed options and the overall enjoyment their kids experienced. However, there were some negative reviews about the vehicle's charging system.
ANPABO 24V 4X4 Ride on Car Truck w/Remote Control, 4WD/2WD Switchable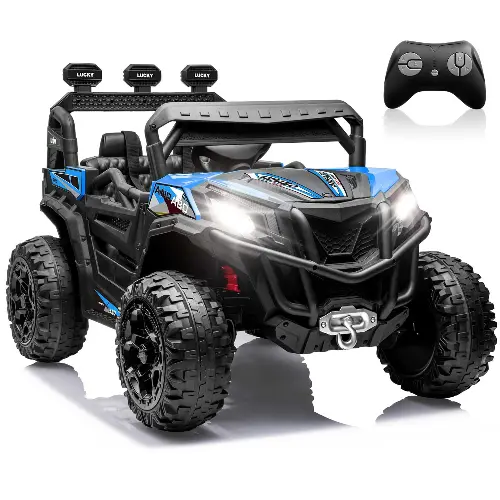 The ANPABO 24V 4X4 Ride on Car Truck is a versatile, feature-packed toy vehicle designed for children aged 3 and above. This battery-operated car, powered by two 12V batteries and four 35W motors, has switchable 2WD and 4WD modes to easily navigate different terrains. It includes a soft start function for smooth acceleration, a 19-inch spacious seat with an adjustable 5-point safety belt, and an impressive load capacity of 110 lbs. Additional features include a built-in music player that can play both preset music and kids' favorite songs via phone or USB connection, a remote control with an emergency brake function, and 4 shock absorbers for smooth driving.
The ANPABO 4X4 Ride on Car Truck is praised by users for its safety features, sturdy construction, and overall fun factor. The car is also equipped with LED lights, horn and engine sounds, and even a storage compartment at the back for toys or snacks. Moreover, its design allows two driving modes, manual and remote control, offering flexibility for both parent and child interaction. With an overall rating of 4.5 out of 5 from 387 ratings, this product seems to be a hit among consumers for its reliability and engaging features. However, some users have mentioned a longer than usual charging time, which may be a minor downside for some.
POSTACK 24V XXL Kids Ride On Car 2 Seater, 4WD Electric Battery Powered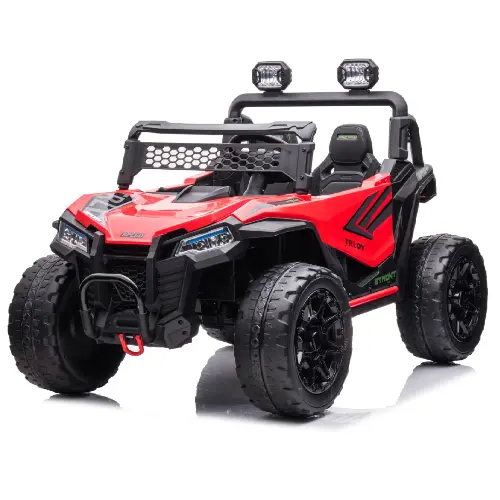 The POSTACK 24V XXL Kids Ride On Car is a robustly designed, two-seater electric ride-on toy truck that promises to deliver an exhilarating and fun-filled experience for kids. Equipped with a 24V battery powering four motors, this ride on electric cars-on truck has an impressive speed range of 3.1-4.9mph. It also features high/low-speed modes, MP3 player, EVA rubber tires, and is suitable for a variety of terrains. A major highlight of the truck is the dual driving modes - kids can drive manually using the steering wheel and pedal or parents can control the vehicle remotely. This ride-on truck ensures safety with its seatbelt, lockable door design, and soft start technology to prevent sudden acceleration or braking.
Customers have lauded this product for its powerful motors, safety features, and entertainment options. A reviewer praised the parental remote control that offers a safe driving experience for kids, with a unique brake button that instantly halts the truck when pressed. The reviewer also commended the ride-on truck's speed, which, despite being fast, was manageable for their five-year-old grandson.
Blitzshark 24V MAX Ride-on Truck 2 Seater 4WD Kids Electric Vehicle with 480W Motor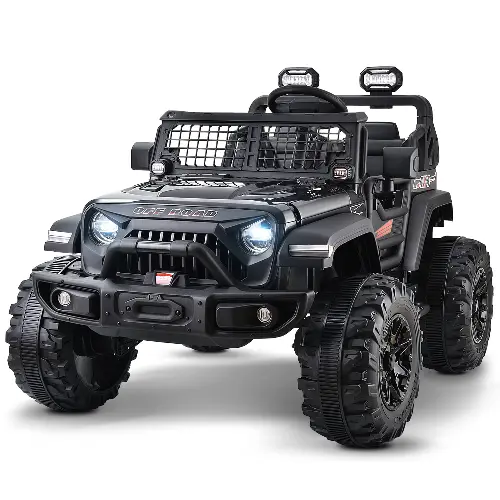 The Blitzshark 24V MAX Ride-on Truck is a 2-seater, 4WD kids electric vehicle designed with an ultra-powerful 480W motor and a 24V/4x120W engine that can adapt to various terrains. This vehicle has extended two seats and a large wheelbase for maximum comfort and off-road performance. The car also features a free DIY sticker, a wireless music player, and an FM radio, among other amenities. Reviewers have praised this product for its strong engine, smooth ride, spacious seating, and extra features, resulting in an overall rating of 4.2 out of 5 stars. However, some customers noted issues with delivery and installation.
ANPABO 24V Ride on Car w/Parent Remote Control, 4WD/2WD Switchable, Real-Time Battery Level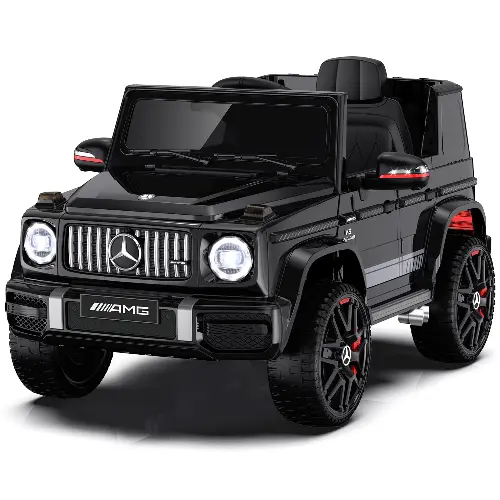 The ANPABO 24V 4WD Licensed Mercedes-Benz G63 Kids Car is a luxury electric ride-on toy for children, equipped with parental remote control, 4WD/2WD switchable driving modes, real-time battery level indicator, LED headlights, and music player. Its key features include an officially authorized Mercedes Benz design, single seat with an adjustable seatbelt, lockable doors, and emergency brake button for maximum safety. Moreover, the car boasts a single, powerful 24V battery for enhanced performance even on uneven terrains. Customers appreciate the toy cars long battery life, superior performance, and excellent customer service, rating the product 4.6 stars out of 5. However, some found the assembly a bit challenging.
Sopbost 24V 2 Seater Kids UTV Ride On Buggy 4x4 Off-Road Electric Car with EVA Wheels with Remote Control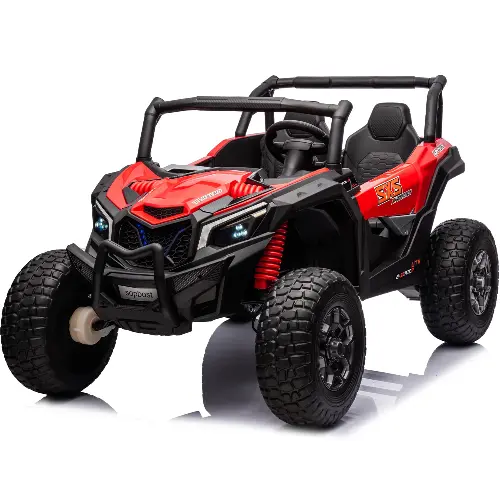 The Sopbost 24V 2 Seater Kids UTV Ride On Buggy is a high-end, off-road battery-powered toy car designed for adventurous kids. This vehicle is equipped with a 24V rechargeable battery, 4 powerful motors, strong spring suspension, and EVA wheels, offering an exciting ride on various terrains. Its key features include 2 adjustable seats with seat belts, a Bluetooth-enabled sound system, USB port, TF card slot, AUX, and both remote control and manual modes. Users especially appreciate the vehicle's safety measures, spacious design, and ability to adjust the seats according to the child's height. The product holds a high rating of 4.9 stars out of 5, with reviewers praising its quality, durability, and functionality. However, the higher price tag and delivery fee could be a drawback for some buyers.
sopbost 24V Ride On Car for Kids Ride On Toys with Remote Control 4x4 EVA Tires Wheels, 5Mph High Speed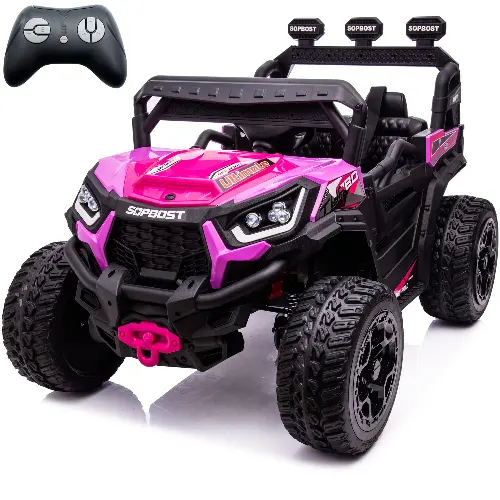 The sopbost 24V Ride On Car for Kids is a high-quality, battery-powered vehicle that can provide a thrilling experience for your young ones. It stands out from other electric cars due to its striking off-road design, with bright LED lights, adjustable seatbelt, double lockable doors, and EVA rubber explosion-proof wheels. This ride-on car is designed for kids aged 3-8, and is equipped with 4pcs 35W drive motors, allowing the car to smoothly traverse different terrains. You can switch the driven mode between the 2-wheel drive and 4-wheel drive according to the driving needs. It also includes a 2.4GHz parental remote control to ensure safety while your kids are driving.
Parents and kids will appreciate its entertainment features, like device connection functions, letting your kids play their favorite music or stories. Reviewers give it high marks for its durability and robustness, with a 4.2 star rating from over 700 reviews. Key features include a 24V battery that drives the powerful 35W motors, allowing the car to reach speeds of up to 5mph. Its all-terrain performance and high safety standards, having been certified by ASTM F963, make it an ideal toy car for kids. However, it's worth noting that this ride-on car might be a bit pricey and assembly is required, though it does come with an instructional video for assistance.
Kidzone 24V Ride On Truck 2 Seater Battery Operated Cars with Parent 2.4G Remote Control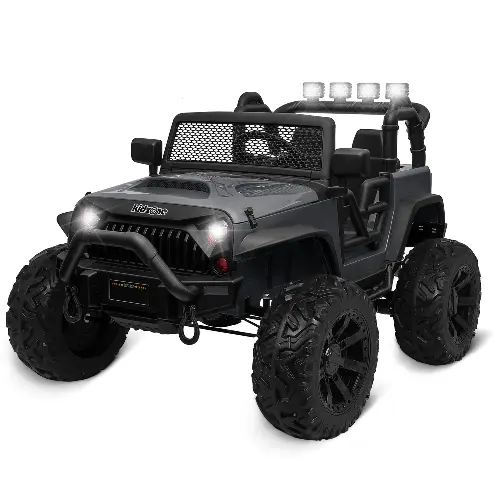 The Kidzone 24V Ride On Truck is an exciting electric toy car that offers a unique and realistic driving experience for children aged 3-8 years. This dark grey two-seater vehicle is powered by dual 200W motors, allowing kids to reach speeds between 1.8-3.1 mph. It is equipped with a host of features, such as LED lights, an adjustable seat belt, sturdy doors, and a manual and parental control mode, all designed to provide safety and convenience. The toy truck also features a Bluetooth-enabled sound system for kids to enjoy their favorite music while driving, and the product comes with DIY license plate stickers for personal customization.
Reviewers have given this ride-on toy an average rating of 4 out of 5 stars, with many praising its cool design, off-road tires, and realistic driving experience. It's also appreciated for its long-lasting battery life, powered by two 12V7AH rechargeable batteries. However, some customers reported that assembly could be challenging. This ride-on toy stands out for its blend of fun, realism, and safety features.
Conclusion
In conclusion, selecting the perfect electric cars for 10 year olds to drive doesn't have to be a daunting task. The market offers an array of options, each with its unique set of features, varying power capacities, and safety measures. While the listed models are all great options, remember to consider your child's preferences and safety when making your final decision. In addition, parental control features, speed levels, and entertainment options like music players should all factor into your buying decision.
Ultimately, the goal is to bring a spark of joy and a sense of adventure to your child's playtime, all while ensuring they're safe and secure as they zip around their mini-universe. Thanks for reading our kids electric car blog - we hope this helps you find your power wheels soon! Happy shopping!

Recommended Reads
Questions and Answers
What are EVA Tires?
EVA tires, also known as foam-filled tires, are a type of tire commonly used in various applications. EVA stands for Ethylene Vinyl Acetate, which is a lightweight and durable foam material.
Unlike traditional tires that are filled with air, EVA tires are filled with this foam material. This makes them puncture-proof, meaning they cannot be easily damaged by sharp objects like nails or glass on the road.
What's the distinction between a 12-volt and a 24-volt electric car for kids?
The voltage of the battery affects the speed and power of the electric car. Generally, a 24V electric car will be faster and more powerful than a 12V electric car. It can provide a higher top speed and better performance, especially on inclines or rough terrain.
However, it's important to note that the max speed and performance of an electric car for kids also depend on other factors such as the motor power, weight capacity, and design of the vehicle. So, even if a 24V car has more voltage, it doesn't necessarily mean it will always be faster or better than a 12V car.
What should you be aware of when electric motorized vehicles with children in them?
It is essential to supervise children closely when they are near motorized vehicles. Adult supervision helps prevent accidents and ensures that kids follow safety guidelines.