As our lives become increasingly busy and dominated by screens, the importance of quality family time has never been more apparent. With warmer weather and longer days just around the corner, now is the perfect time to transform your outdoor space into a backyard paradise and a haven for delightful family bonding experiences.
We found a diverse selection of fun backyard activities guaranteed to provide hours of entertainment for family members of all ages. From classic favorites to modern twists, these lawn games will foster camaraderie and friendly competition and help you create cherished memories that will last a lifetime.
So grab your sunscreen, gather a picnic basket and your loved ones, and get ready to embark on an unforgettable adventure right in your own backyard!
How We Choose
The number one priority for any game though should be the fun factor followed by ease of use, portability, durability, competition level, and price point, too, so we've accounted for those features throughout our recommendations below!
Look for your favorite games in our best backyard games list below and start having fun outdoors!
iPlay, iLearn Kids Bowling Toys Set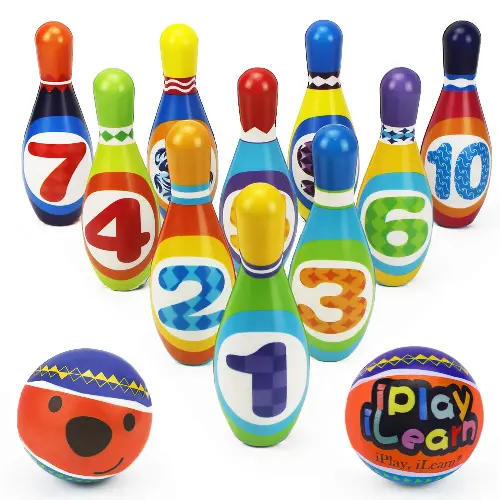 The iPlay Indoor Bowling Set is a great option for families looking to introduce this fun twist on a classic game to their children. This set comes with 10 foam pins and two lightweight bowling balls, making it easy to start immediately.
Promotes gross motor skills, balance, and hand-eye coordination as they learn to throw strikes! This bowling set is made with a high-grade foam material that is safe for children to play with.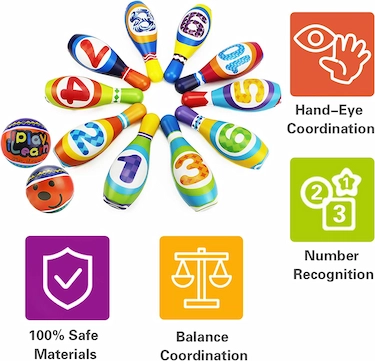 This set also has an instructional manual that helps parents get started on their own or teach their kids how to play properly.
Hapinest Find and Seek Scavenger Hunt Outdoor Indoor Own Backyard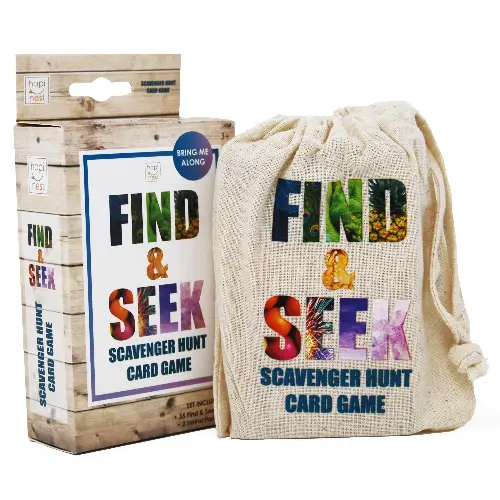 The Island Genius Find and Seek Scavenger Hunt includes 35 cards, two instruction cards, and a drawstring bag so that you can take it anywhere.
The scavenger hunt cards challenge kids to find hidden items in nature. It's a great game for road trips or any other adventure where you want to spend time outdoors with your whole family. It turns your environment into a giant matching game to let their imagination run wild. There are three ways to play the game: picture recognition, matching objects on the ground, and finding objects in the bag.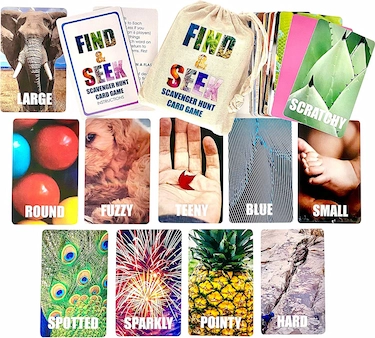 It's recommended for ages three years and up, but even non-readers can have fun playing with picture recognition.
Island Genius Glow in The Dark Lawn Darts Outdoor Yard Game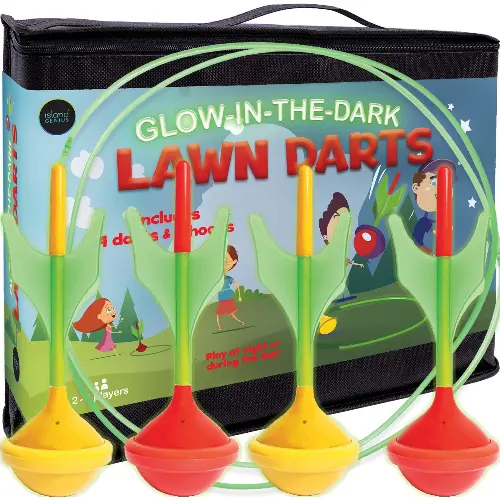 This set comes with seven darts, which are lightweight and durable. The glow-in-the-dark feature adds extra excitement, making it easy to play even at night.
The target rings are easy to set up and take down, ensuring that your game will be consistent each time you play. The plastic construction ensures the darts are durable enough to last multiple uses. These lawn darts also come packaged in a convenient carrying case, making them easy to transport and store when not in use.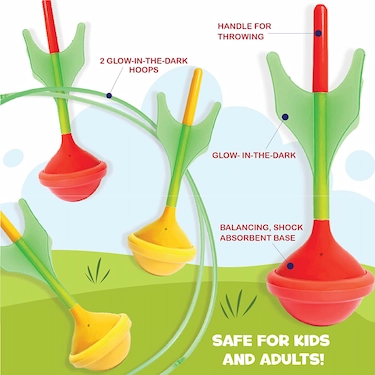 Overall, this set is perfect for both beginners and experienced players alike. It's fun for everyone no matter what age group or gender you're playing with - whether on a sleepover or a movie night at a friend's house - so it's sure to bring lots of smiles!
Shooting Games Toys for Age 5 + Outdoor Game with Moving Shooting Targets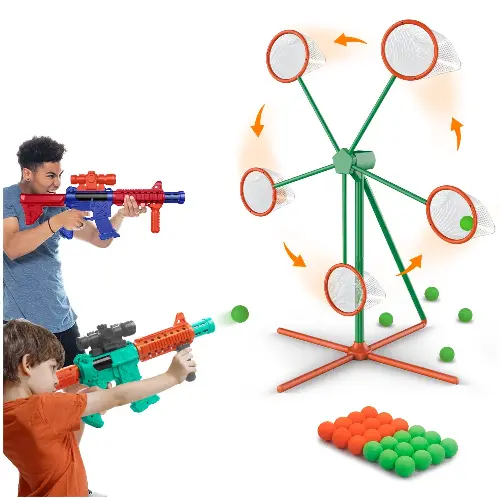 This toy gun has 24 foam balls to be shot at a rotating pinwheel target. The target can be set to move at three different speeds, making this game an exciting challenge for young and older players.
The shape of the toy gun is also designed to look practical, making it easy for children to learn how to aim properly and hit their targets accurately. The product also comes with batteries included so that you don't have to worry about having access to power in the yard.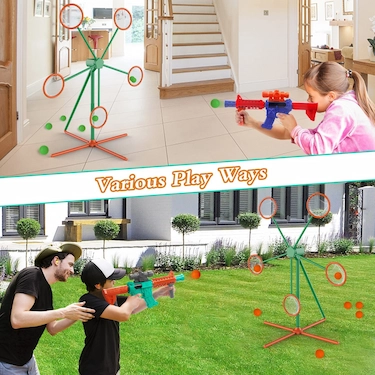 This air pistol is made from high-quality materials, ensuring it will stand up well against wear and tear over time. It's also safe enough for children of all ages to use without the risk of injury or damage during playtime.
OUTTOY Led Ring Toss Glow in The Dark Game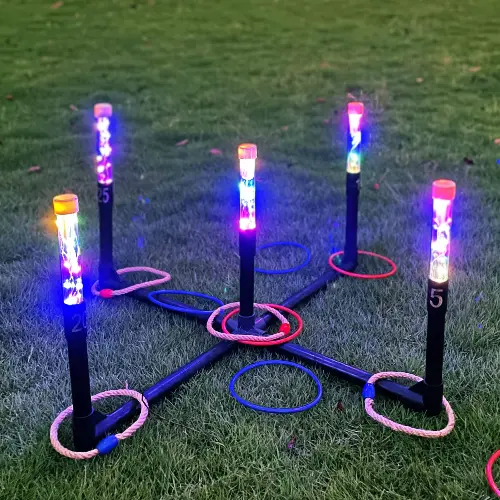 This game set features 16 plastic rings that can be used for target practice or just tossing around.
The durable material construction makes it strong enough to handle some roughhousing, while the multicolor design adds a splash of color to your backyard. The compact size and portable bag make this an easy game to bring along on a camping trip, or other outdoor events, making everyone happy no matter the weather.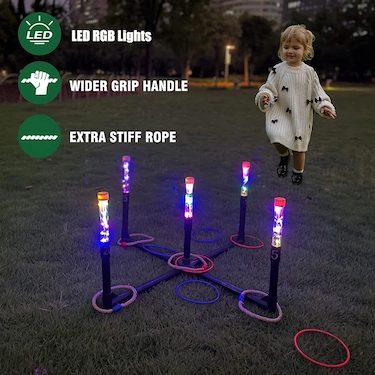 It's also easy to set up and take down, so you won't waste time preparing for your next adventure. Whether you're throwing some frisbees around or having a full-on battle royal, this game will keep everyone entertained!
MOLACHI Outdoor Flying Disc Toss Game Backyard Fun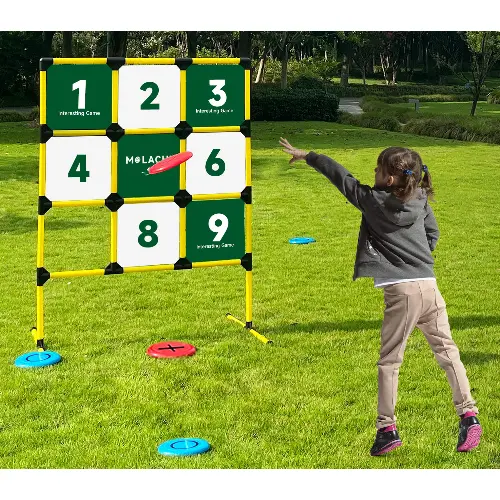 The Molachi Game Set is a fun and challenging outdoor game that works well for adults and children. This game set has everything you need to get started, including plastic plates with stands, bean bags, and a carrying case.
The game's rules are simple: throw the disc into the target area on the other side of the yard. The catch is that you have to do it before your opponent does! The best part? It's easy to assemble and can be played anywhere, making this a great option for backyard parties or large gatherings.
It may not be as durable as other options, but it's still built to last through multiple uses while still being lightweight enough to move from place to place easily.
Bean Bag Toss Version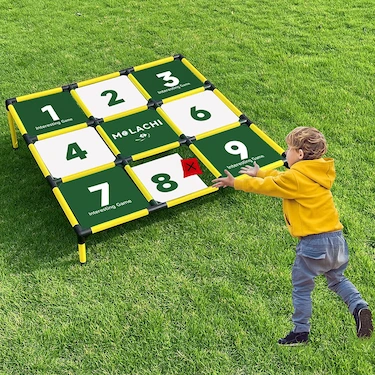 If your family is into bean bag games, this Bean Bag Toss version is for you. It has similar construction and colors. It also can be easier for younger ones who cannot throw high.
Jasonwell Splash Pad Sprinkler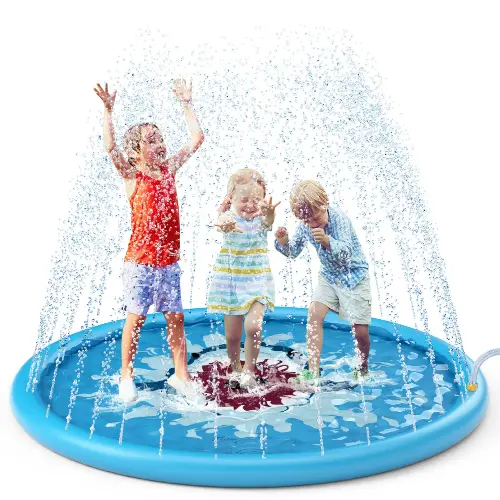 The Jasonwell Splash Pad Sprinkler is a fun and safe way to keep kids cool during summer activities. This inflatable water sprinkler features a large 68" x 68" mat that can be used for splashing and frolicking in the water.
The mat is made from waterproof PVC material and has dielectric welding to ensure strong joints. It's easy to set up; just plug it into a garden hose or PVC tubing, adjust the water pressure, and you're ready to go! The mat also comes with an exclusive shark design that looks great on any side outside in your backyard patio or deck.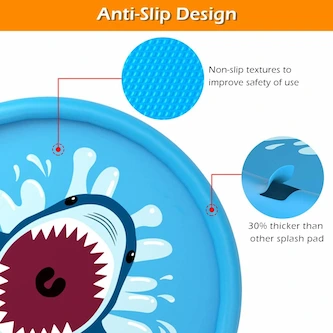 This splash pad sprinkler is perfect for outdoor parties or events where you want your kids to stay active without getting too hot out in the sun.
KUTHSIC Indoor Outdoor Launch Flying Saucer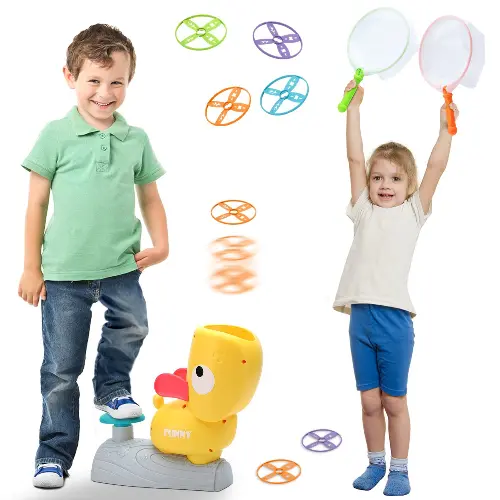 This toy has eight flying saucers that kids can launch into the air and catch using a net. The saucers are made from durable, high-quality materials and have no batteries required to fly or catch. The toy is suitable for kids 4-8 years old, making it a great option for birthdays or holidays. It's environmentally friendly, so when the time comes to play with this toy again next season, there is no need to use any batteries.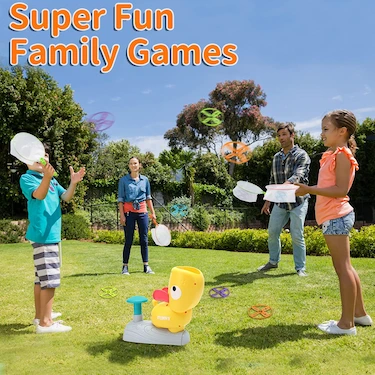 This flying saucer set is perfect for playing outdoors in your own backyard or at the park. It's easy to assemble and requires stepping on a pedal to release the saucers into flight. We love that this product encourages active play without being too challenging - perfect for keeping kids entertained while getting fresh air during those hot summer days!
SWOOC Games - Giant Tic Tac Toe Game Outdoor Game | 3ft x 3ft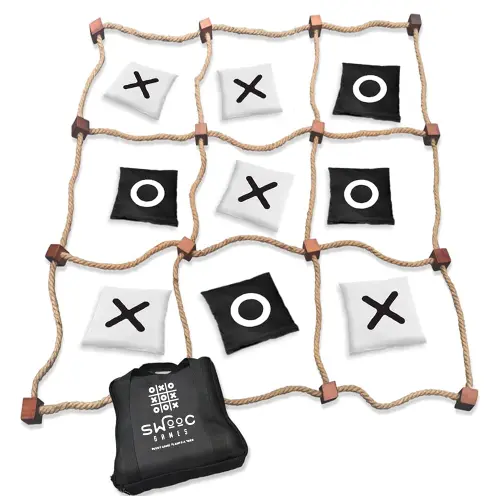 The SWOOC Tictactoe is a great option for anyone looking for a fun and eco-friendly way to play board games with friends. This lifelike game board features beanbag toss, making it perfect for kids and adults to enjoy together.
The oversized version of the classic tic tac toe game is easy to set up, and this friendly game takes little time to get ready to play. The durable canvas carrying bag makes it easy to take along on hikes or camping trips to spend quality time with your friends outdoors.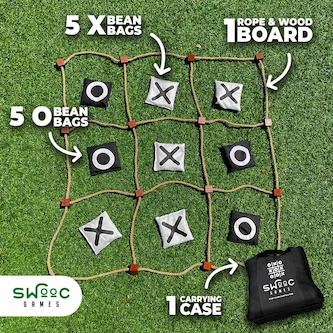 This 3ft x 3ft set weighs 6lb which makes it easy to carry around while still providing plenty of space for playing games together. Whether at the park or hanging out at a picnic table at home, this portable board game will bring back memories of childhood fun!
SISLAND Bean Bag Toss Game Outdoor Toy for Kids, Toddler Party Games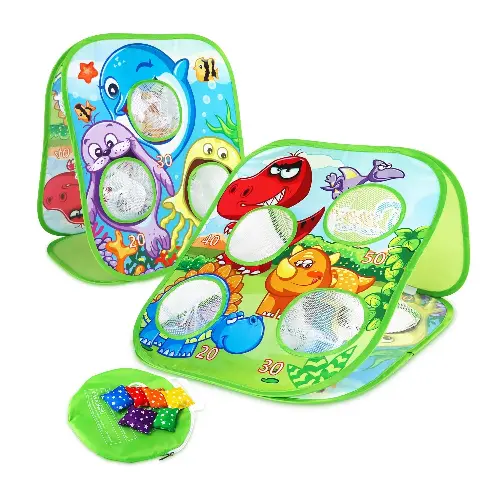 Sisland Bean Bag Toss Game is a great way to have backyard fun and get your kids involved in active playtime. This game comes with seven bean bags and a 6' x 6' regulation cornhole board, making it easy to set up and play right away.
The bean bags are made from 100% recycled plastic bottles, so they're durable and eco-friendly. The game is lightweight and easy to carry, making it perfect for outdoor use. It's also built with the high elastic flat wire that provides stability during gameplay.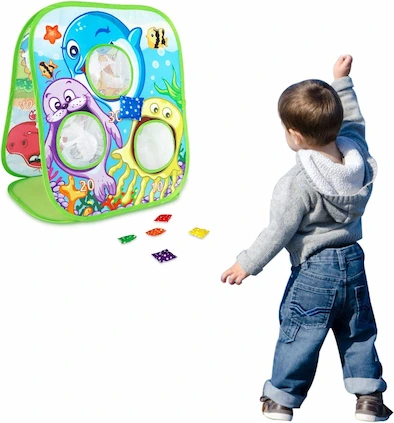 If you're looking for an affordable bean bag toss game that can be used at home or on the go, this one will suit your needs perfectly.
Conclusion
The best backyard games are those fun things that can be enjoyed by everyone in the family, from young children to older adults. When choosing lawn games, consider your available space and budget and how quickly they can be set up and taken down. You can also make an obstacle course out of some fun games to make it more interesting on a hot day. Be creative and choose one that will bring lots of fun and enjoyment into your backyard!
Recommended Reads