Attention all dog-lovers and book-enthusiasts! Are you searching for the perfect addition to your baby's library? Well we've got the ultimate list of tail-wagging, bark-tastic books that will make your little one's heart skip a beat. From adorable puppy stories to heartwarming tales of friendship, we've paw-picked some top books about dogs that will have your baby cuddled up with their new furry friends in no time. So snuggle up with your furry best friend, and let's dive into the world of dog books that will make your baby's library paw-some!
---
Snuggle Puppy by Sandra Boynton
Snuggle Puppy is one of the board books we recommend today. It's written and illustrated by the beloved children's author Sandra Boynton. It is a perfect choice for babies and toddlers who are just learning about the world around them. The story is a simple rhyming "song" that a mother dog sings to her puppy to let them know how much she cares. The illustrations are fun, colorful, and full of life, making it an engaging read for young readers.
What To Know
This book is suitable for ages 0-3 and is made with sturdy board pages that can withstand wear and tear from little hands. It has simple text that is easy to understand and follow along with, making it great for early readers.
What We Love
We love how this little book just puts you in a good mood while "signing" out the lines. It helps babies learn about expressing love in different ways while having fun with the simple sentences that are easy to learn. With it's "love" theme, this book could make a great Valentine's Day gift too!
To see more Valentine's Day book ideas for young readers, click here:
---
Go, Dog. Go! by P.D Eastman
What To Know
Go, Dog. Go! is a classic children's book written by P.D Eastman (Dr. Seuss' protégé) and published in 1961. It follows the adventures of dogs as they drive cars, play on swings, and even go to a party at the top of the tree. This board book edition is a shorter, simplified version of the fun read aloud that's more appropriate for the youngest of readers. The story is told through simple dialogue and dog-centric illustrations that make it perfect for babies or even those just learning to read. It's a great way to activate your child's imagination and help them see how fun dogs can be!
What We Love
We love how this book introduces kids to the world of books about dogs in a fun and engaging way. The colorful illustrations are sure to capture their attention while the simple dialogue makes it easy for them to follow along with the story. We also appreciate how this book can be used as a tool for teaching basic concepts such as colors, numbers, and opposites while still being entertaining enough for kids to enjoy reading it over and over again.
Fun Fact: Netflix has a cartoon show based on the book and goes by the same name: Go, Dog. Go!
Here's an episode on YouTube you can watch:
---
Babies Love Puppies by Scarlett Wing
Babies Love Puppies is a board book written by Scarlett Wing and published by Cottage Door Press. It's perfect for babies and toddlers who love dogs, as it's a beautifully illustrated book full of adorable puppies doing different activities. The book also includes fun facts about puppies, making it a great way to introduce young children to the world of canines.
What To Know
This board book is designed for babies and toddlers ages 0-3 years old. It has thick pages that are easy for little hands to turn and sturdy enough to withstand lots of use. The illustrations are bright and colorful, sure to capture your child's attention. Each page features one or two sentences about puppies, along with fun facts about them.
What We Love
We love that this book is so interactive! Not only does it have fun illustrations of puppies, but there's multiple "flaps" to engage your baby's motor skills and keep their attention. We also appreciate that both the pages and flaps are thick and durable, making them perfect for tiny fingers!
---
Tails Are Not for Pulling by Elizabeth Verdick
Tails Are Not for Pulling is a board book written by Elizabeth Verdick and illustrated by Marieka Heinlen. It uses simple language to teach young readers how to treat animals properly and is perfect for babies and toddlers who are curious about animals, but need to understand boundaries.
What To Know
This book is suitable for ages 0-3 years old. It's made with thick, durable board pages that can withstand lots of use, pulling, tugging, and even sticky fingers. The illustrations are all different kinds of pets and are sure to capture your child's attention. The pages include short simple sentences that are easy to understand and follow along with.
What We Love
We love how this book teaches important lessons about kindness towards animals in a fun way that kids will easily be able to grasp. It encourages children to be gentle when they interact with pets while also teaching them how their actions can affect other living beings. We appreciate how this book introduces these concepts in a way that sparks conversations between adults and children on the topic of animal welfare and empathy.
---
Dog's First Baby by Natalie Nelson
What To Know
This charming book is a must-have for all dog-owning parents (or parents-to-be) who want to introduce their babies to the wonderful world of dogs. It's made with high-quality, strong board material that can withstand curious little hands and is perfect for little ones just learning to handle books. The colorful illustrations and simple, easy-to-follow text make it perfect for little ones short attention spans.
What We Love
We just can't get enough of this delightful book! From the sweet illustrations that bring the pages to life to the adorable storyline from the perspective of a dog, this book is sure to be a hit with both babies and their parents. It's the perfect way to bond with your furry friend and start your baby on a lifelong love of dogs.
---
Puppy Love by Cottage Door Press
What To Know
This Puppy Love children's interactive finger puppet book is a great way to teach your baby or toddler how to interact with a puppy. It features an adorable, soft and fuzzy puppy finger puppet that is used to help tell the story and engage young minds.
What We Love
We love this book because it is both educational and entertaining for babies and toddlers alike, while being a little different than the norm. The puppy finger puppet makes the story more engaging and helps to keep kids interested in learning more about how to interact with dogs....and did we mention it's SUPER cute!?!
---
Doggies by Sandra Boynton
Doggies by Sandra Boynton is a great book for babies and toddlers who love dogs! This board book features colorful illustrations of all kinds of dogs, the different sounds they make, and the numbers 1-10.
What To Know
This book is perfect for babies and toddlers who love dogs, love silly sounds, love counting, or are just being exposed to any of the above. It's also important to note that this is one of the best dog books for toddlers who are just learning to count.
What We Love
We love the use of dog noises to make this counting book extra fun and we're pretty confident your child will too! They'll enjoy barking, yapping, and "ruff"-ing along with the numbers as the book progresses. We also appreciate the diversity of the puppies featured in this book! From big dogs to small ones, there's something for everyone.
---
Babies and Doggies by John Schindel & Molly Woodward
The Babies and Doggies book by John Schindel & Molly Woodward is a great choice for parents looking to pick up a book on dogs to read with their baby.
What To Know
This board book is designed for babies ages 0-2 years old. It features real pictures of babies and dogs that will captivate your baby's attention. The text is minimal yet engaging, making it easy for your baby to follow along.
What We Love
We love that this book introduces the similarities of babies and dogs in a fun and silly way that young children can appreciate. They can smile and giggle along with the book as they realize "oh yeah, we both do that!" Pointing out the similar traits of each can help build empathy as your baby ages.
---
Where's Spot? by Eric Hill
What To Know
When it comes to books about dogs for babies, one of the best is "Where's Spot?" by Eric Hill. This lift-a-flap edition of the classic children's book follows the adventures of a momma dog as she looks for Spot in all his favorite hiding places.
What We Love
What we love most about this book is its timelessness. It was first published in 1980 and has since become a beloved classic among parents and children alike. The illustrations are bright and cheerful, the liftable flaps of this version make it extra engaging, and the simple story of searching for something missing makes it relatable for all children.
---
The Poky Little Puppy by Janette Sebring Lowrey
What To Know
When it comes to books about dogs for babies, the Poky Little Puppy Golden Book is a classic. Written by Janette Sebring Lowrey and illustrated by Gustaf Tenggren, this book has been around since 1942 and remains a favorite among children and parents alike. It tells the story of five puppies who go out on an adventure, only to find themselves wondering what happened to the poky puppy who's always lagging behind.
What We Love
What we love most about the Poky Little Puppy board book edition is how it makes this timeless classic accessible to the youngest of readers. This is one of the most infamous vintage children's books about dogs. It has been around for 80 years and yet it still captures the hearts of children today! Its simple storyline and adorable illustrations make it perfect for young readers, Plus, with its affordable price tag, you can't go wrong!
---
Puppy and Friends by Roger Priddy
Puppy and Friends Touch and Feel is a board book for babies and toddlers featuring large areas of textured fabrics for children to touch and feel. With cute puppies to stroke, this book helps babies develop sensory awareness.
What To Know
This board book is perfect for young children who are just starting to explore their world through touch. The different textures provide tactile stimulation which can help with cognitive development and pairing the textures with simple rhymes and pictures also helps language development.
What We Love
We love that this board book offers more than just visual stimulation; it provides tactile stimulation as well. The different textures of the fabric help babies learn about the world around them while having fun at the same time! The softness of puppies is one of their most appealing traits to kids and adults alike, so touch-and-feel books like this one are great for capturing that component often missing in other books.
---
In Conclusion
If you're looking for the perfect way to introduce your little one to the world of dogs, we hope our list of paw-some dog books provides plenty of tail-wagging, bark-tastic fun. So go ahead and dive into the world of adorable puppies, heartwarming tales of friendship and all things dogs!
Happy reading!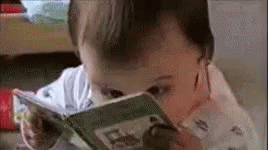 ---
See more book recommendations here:
Grab your free printable kids activities with a dog theme here:
Or check out our guest written article about family camping with your dog here:
Frequently Asked Questions Related to Books About Dogs for Babies and Children
Why are books about dogs so popular with children?
Books about dogs have been popular with children for generations. From the classic tales of The Poky Little Puppy to modern favorites like Paw Patrol, books featuring dogs have a timeless appeal that captures the imagination of young readers. Dogs also provide an emotional connection for children; they are loyal and loving characters that can help teach important lessons about friendship and responsibility. With these attributes in mind, it's no wonder why books about dogs remain popular with children today.
How do you explain a dog to a child?
Well, let me tell you about one of the most wonderful creatures on this planet - dogs! Dogs are special animals that bring so much love and joy into our lives. They have soft, fluffy fur that feels so nice to pet, and big, wet noses that they use to smell all sorts of things. And when they look at you with their big, beautiful eyes, it just melts your heart!
Dogs are also super smart and can learn lots of tricks, like how to sit, stay, and roll over. They love to play and go for walks, and they'll always be there to comfort you when you need a friend. They're loyal, which means they'll stick by your side no matter what.
So, when you're playing with a dog, you're not just playing with an animal - you're making a new friend for life. And that's a pretty amazing thing, if you ask me!
What books have a dog as the main character?
There are plenty of amazing books out there with dogs as the main character just waiting for you to discover them! One of the most famous ones is "Old Yeller" by Fred Gipson. It's about a boy and his best friend, a big yellow dog named Yeller, and the adventures they have together on the frontier. You'll laugh, you'll cry, and you'll fall in love with Yeller just like the boy does.
Another one you might like is "Where the Red Fern Grows" by Wilson Rawls. It's about a boy named Billy and his two dogs, Little Ann and Old Dan, who he trains to be the best coon hunters around. It's a heartwarming story about the bond between a boy and his dogs, and it'll make you appreciate the love and loyalty of man's best friend.
The Poky Puppy and Where's Spot? are two classic stories for very young children that feature dogs as the main character and are sure to delight your baby and toddlers.
The Biscuit series and Clifford series are books that have been around for many years, but are still well-loved today.
Newer popular books with dogs as main characters include the PawPatrol series, Bluey series, and Hot Dog, an award winning book that tells the story of an overheated dog that finds his happy place by the ocean.
Are there any early chapter book readers about dogs?
Yes, here are some early chapter book readers with dogs for readers 6+ to consider: The Poodle of Doom by Susan Tan, Capitan Pug by Laura James, Pug's Snow Day by Kyla May, the series "Down Girl and Sit" by Lucy Nolan, The Berenstain Bears' Epic Dog Show by Stan Berenstain, The Story of Diva and Flea by Mo Willems, Spunky Tells All by Ann Cameron and many many more.
How do I explain stray dogs and animal shelters to my child?
As your children get older, consider using a book or two to bring up the topic of shelter dogs, stray dog, and abandoned dogs. You can even bring them to an animal shelter to help them see the hard work that goes into being a pet owner and caring for a family pet. Many shelters allow children to walk dogs with their parents, or play with the animals as long as you are with your child the whole time.
There are books about service dogs too that can teach children the different ways stray dogs can change their life and those around them. A recently popular movie, Rescued by Ruby, is based on the true story of a stray dog who's adopted from the animal shelter and returned multiple times before she finds a home where they won't give up on her. With time the beloved dog becomes an exceptional search and rescue dog that goes on to save lives and solve crimes. The movie was created after the Dogwink Ruby short story from the book Dogwinks by Squire Rushnell and Louise DuArt.