Ah, the great outdoors! The sun is shining, the birds are singing, and there's a whole world of fun and excitement waiting for you and your kids outside. But what to do? The possibilities are endless! This article is your ultimate guide to "what are some outdoor activities for kids on a sunny day?", with a whopping 50+ fun ideas for all ages. So, whether you're a parent, guardian, or simply someone looking to entertain the little ones, grab your sun hat and let's run on into the world of outdoor adventures!
We'll cover a wide range of activities, from water fun and nature exploration to creative art projects and backyard sports. You'll find activities perfect for family bonding, as well as those that challenge and engage kids' minds and bodies. So, are you ready to make the most of those sunny days and create lasting memories with your children?
Fun Outdoor Activities Short Summary
Escape the heat and explore nature with swimming, fishing, kayaking & more!
Get creative outdoors with art projects & unleash friendly competition with some backyard sports.
Take to the skies for an unforgettable adventure - fly kites or drones + movie nights under stars!
---
Sunny Day Adventures: Water Fun
Nothing beats the heat on a hot day better than water fun! From beaches to lakes and pools, there's no shortage of ways to enjoy the refreshing coolness of the water. Pack a picnic lunch and head to a nearby beach, lake, or pool for a day of swimming, fishing, kayaking, and more.
Fishing can be a great bonding experience for the whole family, and don't forget the added bonus of getting that much-needed vitamin D from the lovely sun.

Of course, not everyone has easy access to large bodies of water, but that doesn't mean you can't have a splash-tastic time in your own yard!
Set up a small pool, buy or make a water table, pull out the garden hose, run through the sprinklers,  or fill up some water balloons and start an old fashioned water balloon fight - most kids can't resist the excitement of water play. This is just a short list of suggestions because the fact is that there's a huge number of great ideas for outdoor activities available that include water play.
Remember to slather on that sunscreen and prepare to make a splash in the world of water fun!

---
Nature Exploration
It's time to put on those walking shoes and head out on a little nature exploration!
Take your kids on a hike (even if it's just in the back garden or park), look for wildlife, collect some pet rocks or unique shells, and marvel at the beauty of the great outdoors. Whether it's a local park or a more remote location, there's always something new and exciting to discover.
One fantastic way to engage your kids in nature exploration is through a nature scavenger hunt. This activity encourages them to use all five senses to find items in their surroundings. For the more adventurous, try rockhounding or a bug hunt, which can be both exciting and educational (don't forget the magnifying glass).
Check out some of our free printable kids scavenger hunt activity sheets here to get started on this fun outdoor activity:

So, why wait? Head outdoors and immerse your young ones in the wonders of nature!
---
Creative Outdoor Art Projects
Unleash your child's creativity with an outdoor art project!
The fresh air and natural surroundings will inspire artistic expression in even the most reluctant family member. Activities like sidewalk chalk drawings, rock painting, and bubble blowing are perfect for combining art and outdoor activities for young artists. Turn their art into a game and play hopscotch on the driveway to get some exercise!
If you're looking for more unique ideas, why not try squirt gun painting or chalk/ kids paint and tape murals? These activities allow kids to experiment with different materials and techniques while they spend time in the sunshine.
Here's a neat tutorial craft for kids that combines squirt gun painting and an adorable fox.
Remember, there are no rules when it comes to creative expression, so let your kids' imaginations run wild as they create their own masterpieces in the outside world!
---
Backyard Sports and Games
Friendly competition and physical activity go hand in hand with backyard sports and games. You can get your kids outdoors and suggest they play tag, play soccer, or play catch, but it doesn't have to end there.
Transform your backyard into an arena for badminton, croquet, horseshoes, or even a classic game of handball. Set up a play date and  invite their friends to add a bit of competition and likely a lot of laughs. Not only will these games provide hours of entertainment, but they also help develop motor skills and coordination, while burning off all that extra energy!
For a more exhilarating experience, consider hosting a mini sports day complete with obstacle courses, long-jump, and novelty races like three-legged or sack races.

These activities promote teamwork, perseverance, and good sportsmanship, all while having a blast in the sun!
---
Family Picnics and Barbecues
Nothing says "quality family time" quite like a summer picnic or barbecue. Set up a cozy area in a sunny spot in your backyard or venture out to a nice park to enjoy a delicious homemade meal together. Kids especially love picnics, as it brings a sense of adventure to mealtime.
Find more great picnic and backyard summer party ideas here:

Take the opportunity to bond and spend time with some of your favorite people, share stories, and savor the flavors of your favorite dishes.
And don't forget the outdoor games! Activities like frisbee or catch can be a great way to incorporate fun and physical activity into your family outing.
---
Biking and Scootering
Roll your way to adventure when you ride bikes, hop on a scooter,  pick up a skateboard, or try out some roller blades! These activities are not only a fantastic way to explore your neighborhood or nearby trails, but also provide excellent exercise, balance, and coordination development for your kids.
Start young children on balance bikes to teach them basic riding skills before introducing pedal bikes into the mix.
For an extra dose of excitement, create a biking obstacle course, race, or play games like Red Light, Green Light. You can even help your older children set up a bike or car wash if they're feeling entrepreneurial.
No matter how you choose to incorporate biking and scootering into your outdoor activities, your kids are sure to have a wheely good time! 🤭
---
Gardening Activities
Encourage your kids to develop a green thumb with gardening activities.
Assign them their own flower bed, sections, or pots and help them plan out their planting, from herbs and salad leaves to colorful flowers. Most kids enjoy eating what they've grown, and it's a great way to teach them about responsibility and the importance of taking care of plants, along with plenty of natural science lesson opportunities.
Get creative with planting by using old welly boots or other unique containers for flowers. The meditative nature of gardening can be both rewarding and relaxing for children (and adults), providing a sense of accomplishment as they watch their plants grow and thrive.
Not that interested in a classic garden? No problem! How about a butterfly garden full of gorgeous bright blooms, a whimsical fairy garden that keeps the imagination alive, or even worm farm if you've got some bug lovers in the house.
         Butterfly Garden Kit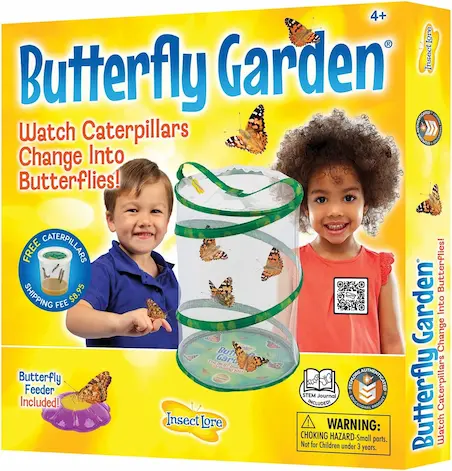 ---
Outdoor Science Experiments
Who said science couldn't be fun?
Conduct outdoor science experiments with items found in nature and ignite your kids' curiosity. Make a volcano, create a tornado in a bottle, or even build a solar oven.
Other thrilling experiments could include excavation, straw rockets,  or homemade ice cream. These activities help teach kids about science, physics, and the natural world while providing hands-on learning experiences they actually enjoy.
For more ideas and details on the ones we just listed, check out our article on STEM activities for kids at home here:

So grab your lab coats and goggles – it's time to explore the world of outdoor science experiments!
---
Community Exploration
Your local community is likely full of exciting places waiting to be explored!
Visit a local museum, library, or farmers market with your kids. These activities provide unique learning experiences and help children develop an appreciation for their community while offering opportunities to socialize and learn about themselves in the process.
Check out Find a Children's Museum website to see a list of options near you:
For a more active approach, set up a treasure hunt, go on a nature scavenger hunt, or follow a trail through your nearest park.
Exploring your community can be a fun and educational way to spend a sunny day outside while also fostering a sense of belonging and appreciation for the world around you.
---
Beach Activities
A day at the beach is one of the quintessential summer day activities! From sandcastle building to beach volleyball, there's no shortage of fun to be had on the sandy shores. Don't forget to take a dip in the ocean, collect seashells, eat some hot dogs, and play beach-themed games like charades or scavenger hunts.
For an extra dose of excitement, try boogie boarding or explore the fascinating world of tide pools and the creatures that inhabit them. With the fresh air, sun, surf, and sand at your disposal, beach activities are sure to make a splash in your outdoor adventures!
If you want some help explaining what a tide pool is and why it's so cool, Paige's Planet Protectors has a great video on exploring tide pools for kids.
---
Flying High: Kites and Drones
Let your kids' imaginations soar with kites and drones! Kite flying on a windy day at the park or beach is a classic outdoor activity that teaches kids about aerodynamics and the power of the wind. For a more high-tech experience, introduce drones as a way to explore the skies and take aerial photos or videos.
Here's our list of the best kites for kids:

Both kites and drones provide unique challenges and opportunities for kids to learn about flight, physics, and the natural world.
So, whether it's a simple paper kite or a sophisticated drone, prepare for takeoff and enjoy the thrill of flying high!
---
Outdoor Movie Nights

Transform your backyard into an open-air cinema with outdoor movie nights! Set up a projector screen, create a cozy seating arrangement, and don't forget the popcorn and snacks. Outdoor movie nights are a fun way to bond with your family and enjoy your favorite films getting some fresh air under the stars.
For added excitement, choose a movie with an outdoor or adventure theme, like "The Goonies," "The Lion King," or "Up." (It probably goes without saying that you should pick a money appropriate for the age of your children and will hold their interest.)
You can even turn the movie night into a themed event with decorations and costumes!
So grab your blankets and settle in for a magical night of cinema al fresco.
We've got a few articles on outdoor movies like this one here on inflatable screens:

---
DIY Obstacle Courses
Challenge your kids' physical abilities and problem-solving skills with DIY obstacle courses in the backyard!
Use hula hoops, a jump rope, and other everyday items to create a fun and engaging course that will test their agility and speed. Get creative with your course design, incorporating elements like cargo net climbing, slides, or even a rope bridge for an added challenge.
We love this 5 minute YouTube video by fun-sized adventure on 10 free or extremely cheap outdoor obstacle ideas for your kids that proves you don't have to spend money to have fun:
Obstacle courses can be easily adapted to suit different age groups and skill levels, ensuring that everyone can join in the fun. Ready, set, go!
---
Treehouse Adventures
Inspire your kids' imagination and sense of adventure with treehouse building!
Constructing a treehouse in the backyard is a fantastic way to encourage creative play and provide a space for kids to explore their own little world.
In addition to building the treehouse itself, consider adding fun extras like cargo nets, rope bridges, or even a zipline for an extra dose of excitement.
For your own inspiration, check out this DIY treehouse build by Project Dad Life where father and sons put up a rather impressive platform-based treehouse for backyard fun:
If you're not quite ready for a custom-billed, you could always pick up a kit to make it (somewhat) easier.
Treehouse Supplies has plans that range from simple to luxurious, hardware kits, tons of accessories like firemen and/or flag poles, cargo nets, and ninja lines. Plus, (probably the most important part here) resources on how to build your dream treehouse in the simplest and easiest way. If you're seriously considering a treehouse build, check out their website first for inspiration, advice, and supplies.
Treehouse adventures can provide hours of entertainment and create lasting memories for kids as they embark on their own backyard expeditions.
---
Nature Photography
Introduce your kids to the art of photography with an outdoor walk and scenic nature photoshoot. Teach them about composition, lighting, and camera settings while they capture the beauty of the natural world. (It's fine if you don't already know all that technical information, because there's plenty of free resources on YouTube and other sites on the web.)
Here's an example resource with some technical tips for kids:
From flowers and leaves to landscapes and wildlife, there's no shortage of stunning subjects for their budding photography skills.
Here's a 2 minute video from the Boston Children's Museum that introduces nature photography to kids as an Earth Day activity:
Encourage your kids to experiment with different techniques, like macro photography or playing with shadows and reflections, and keep a photography journal. Who knows, it might just be their future career!?!
Nature photography is a fantastic way to inspire creativity, foster an appreciation for the environment, and create lasting memories of your outdoor adventures.
---
In Conclusion
The great outdoors offers endless opportunities for fun and exciting activities for kids of all ages. From water adventures and nature exploration to backyard sports and creative art projects, there's something for everyone to enjoy on a sunny day.
So, enjoy the day, pack your sunscreen, and go get started on that journey of outdoor fun and adventure with your kids!
---
Recommended Reads
---
Questions and Answers
What activities should you do with your family during sunny day?
Make the most of the sunny day by planning an outdoor adventure with your family! Go on a nature walk, have a picnic in the park, or even go swimming if it's warm enough.
Let your imagination be your guide and have fun in the sun!
What do kids like these days?
There are some trends and popular choices in recent years. Here are a few things that many kids like these days:
1. Gaming: Video games continue to be a popular choice among kids. Games like Among Us, Roblox, Fortnite, and Minecraft have gained significant popularity and have captured the attention of many young gamers.
2. Outdoor Activities: Kids enjoy engaging in outdoor activities such as playing sports, riding bicycles, climbing, birdwatching, and participating in scavenger hunts.
3. Creative Pursuits: Many kids have a keen interest in creative activities. Crafts, DIY projects, painting, drawing, and imaginative play are all popular choices among children. For more art project ideas and sunny day activities outdoors, make sure to check out our other articles!
What activities to give children?
Here are some activity ideas you can give children:
Build something out of trash/recyclables: Encourage children to use their creativity and problem-solving skills by building something using items that would otherwise be discarded. It can be a fun and eco-friendly way to engage their imagination.
Catch fireflies: During the warm summer evenings, catching fireflies can be a magical experience for children. It provides an opportunity to explore nature and observe the wonders of the world around them. Just make sure to let them go at the end of the night.
Climb a tree: Climbing trees helps children develop their physical strength, balance, and coordination. It also fosters a sense of adventure and exploration in a natural environment.
Collect leaves and identify them: Encourage children to collect leaves from different trees and then research to identify the types of leaves they've collected. This activity promotes curiosity and helps them learn about nature.
Draw on the sidewalk: Sidewalk chalk art allows children to unleash their creativity and create colorful masterpieces. It's a great way for them to express themselves while enjoying outdoor play.
For more activity ideas you can give children, make sure to check out our other articles here on https://persistentparent.com