Welcome to our guide on celebrating New Year's with young kids! The excitement of ringing in the new year can often be lost on young children who may not fully understand the concept of time passing. However, with a little bit of planning and creativity, you can still make the celebration fun and meaningful for your little ones. In this article, we'll provide you with some ideas and tips on how to celebrate New Year's with young kids in a way that they'll enjoy and remember. From dance parties and movie nights to craft projects and pajama parties, there are plenty of ways to ring in the new year as a family. So grab your party hats and noisemakers, and let's get ready to celebrate!
Here are some ideas for celebrating New Year's with young kids:
1. Have a dance party
Put on some upbeat music and let the kids dance and burn off some energy as they count down to the New Year!
Here are a few ideas for dance songs that are popular with young kids:
These songs are sure to get kids moving and having a great time as they celebrate the new year. You can also mix in other upbeat songs that your kids enjoy. Just make sure to keep the volume at a reasonable level and take breaks as needed.
2. Have a movie night
Pick a family-friendly movie to watch as you all countdown to the new year.
Here are a few movies that are popular with toddlers:
"Cars" - This animated movie follows the story of Lightning McQueen, a race car who gets stranded in a small town and learns the value of friendship.
"Frozen" - This film is still at the top of the list, if not the most watched Disney of all time, and it will likely always be loved by kids and adults alike. When Elsa accidentally unleashes her ice magic on the kingdom, her sister Anna teams up with some unusual friends to help save the day.
"The Gruffalo" - This short 40 min film is based on the book about a mouse that outwits would-be predators on his walk through the woods.
"Finding Nemo" - In this animated movie, a clownfish named Nemo gets lost in the Great Barrier Reef and his father sets out on a journey to find him.
"Sing"-This Golden Globe winner is about a struggling theater, a singing competition thrown together with a lot of hope, and all of the different animals that enter the competition. With a message of not giving up on your dreams, it's a great story, and everyone will likely end up singing along at some point.
3. Play games
Break out the board games or have a family game night. This can be a fun way to pass the time and celebrate the new year together. Here are a few game ideas that are suitable for toddlers:
"Peek-a-boo" - This is a classic favorite for toddlers. All you need is a blanket or a piece of fabric to play. Cover your face with the fabric, and then uncover it while saying "peek-a-boo!" This game helps toddlers learn about object permanence and can be lots of fun. While we normally associate this game with babies, if your child is 3 and under, they'll probably still enjoy this game.
"Simon Says" - This simple game helps toddlers learn to follow instructions and improve their listening skills. One person is "Simon" and gives commands, such as "Simon says touch your nose" or "Simon says stand on one foot." The other players must follow the commands if "Simon" is mentioned, but must stay still if the command is given without "Simon" being mentioned.
"Musical Statues" - This game is similar to Simon Says, but instead of following commands, players must freeze in place when the music stops playing. This game helps improve their balance and coordination.
"Follow the Leader" - In this game, one person is the leader and the others must follow behind them, copying their actions. The leader can do simple actions like clapping, jumping, or waving. This game helps young children improve their gross motor skills and coordination.
"Duck, Duck, Goose" - This classic game is a favorite with toddlers. Players sit in a circle, and one player walks around the outside of the circle, tapping each player on the head and saying "duck" until they tap someone and say "goose." The "goose" then gets up and chases the first player around the circle, trying to tag them before they can sit down in the "goose's" place. This game helps improve gross motor skills and coordination; but should be played in an open area and a floor that's not too slippery. If you don't have a good area to play this game, you should probably skip it, so that you don't end up taking your party to the ER!
Board games that may work for your young children include Candyland, Sorry, and Shoots & Ladders. Card games like Go Fish may be fun as well depending on your kids age and skill set.
4. Make a craft
Get creative and have the kids make a New Year's-themed craft, such as a noisemaker or a streamer. You could also put together some glitter bottles. While they are traditionally used as "calm down" bottles or tools for self-regulating, they could double as noise-less shakers for your little(s) to celebrate with.  If you're looking for something different, you could have your kids make sock puppets that will be "guests" at their New Year's Eve party once dry.
5. Have a countdown:
Whether you're letting them stay up until midnight or finding a countdown from a previous year on YouTube and pretending that New Year's starts at 8 p.m., a countdown timer is sure to be fun!
The 2022 PBS Kids Countdown is less than 10 minutes long
This PBS Kids Countdown Timer from 2021 is just under 16 minutes long, is full of age-appropriate music, short stories, fun or silly resolutions for kids, and ends with a classic countdown (that doesn't mention the year).
6. Host a family-friendly New Year's Eve party:
Invite friends and family over for a party that's tailored to young kids. You could have a piñata, a bubble machine, a craft station, painting a picture of something they want to see or do in 2023, etc.
Have fun making silly resolutions in a "mad-lib" style. You can write down or print out some fill-in-the-blank sentences and then let your child pick nouns, adverbs, and adjectives out of separate bowls to complete the sentence. If you have older kids, you can hop on over to The Idea Room and print out their free New Year's Resolution Game.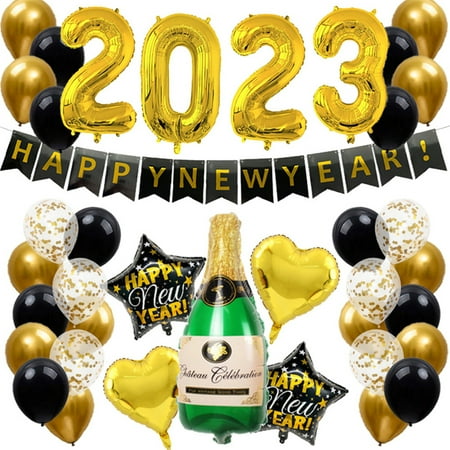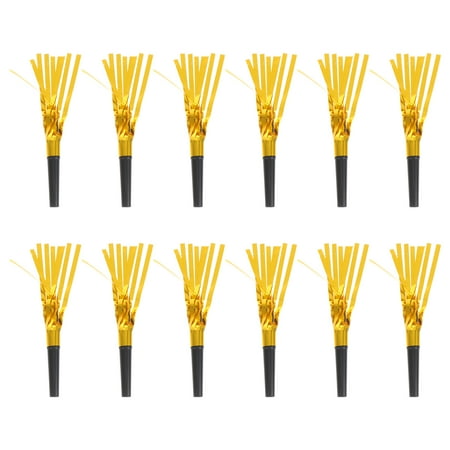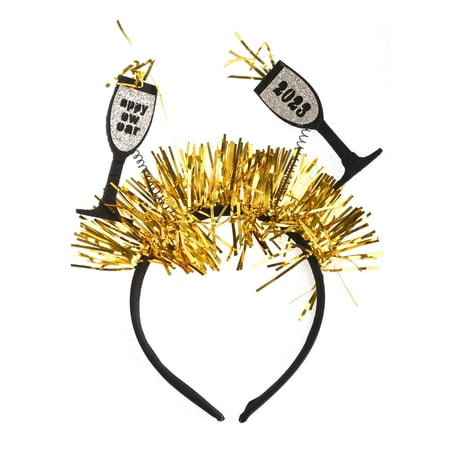 7. Have a pajama party:
Spend the evening in your pajamas, snacking on treats and watching movies as you countdown to the new year. Build-your-own-sundae, popcorn mix-ins, party hats, hang up some fairy lights (or just turn on your Christmas lights if they're still up) to increase the magic of the evening.
8. Memories and Resolutions:
Ask your children what their favorite part of the year has been and write it down somewhere you can keep reviewing it over the years. They may not understand the question as time is a difficult concept for toddlers, but they'll probably think of something that they enjoyed if you help them along. After that, ask them what they're hoping to do/looking forward to in 2023, and write that down as well. This is sure to bring a smile to your face in a few years time.
9.  Get Your Sparkle On:
Sparklers may not be an option for you depending on where you're ringing in the New Year, but they're a lot of fun for kids if you have an outdoor space to safely use them.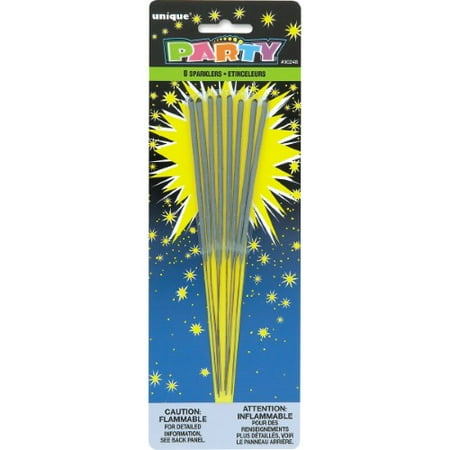 10.  Cheers:
Make sure to include a celebratory toast with your kids! This can just be juice in a sippy that you make a big deal out of drinking together after the countdown ends, you could grab a bottle of non-alcoholic sparkling juice (Welch's can be found in most grocery and big-box stores) to make it extra special, or even make a tea-party out of it if that's something that would appeal to your children.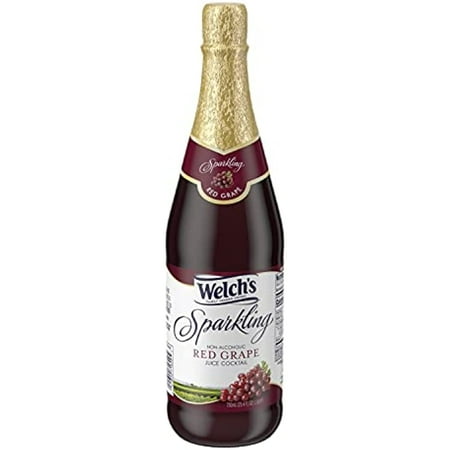 Whichever way you choose to celebrate, remember to keep the celebration age-appropriate and adjust any activities accordingly. Most importantly, have fun and make it a memorable celebration for the whole family!
This post may contain affiliate links. If you click on a link and make a purchase, I may receive a commission at no extra cost to you. For more information, please see our disclaimer.