Inflatable movie screens are designed to allow users to blow up a giant projection screen that, in turn, can be used for watching movies, playing video games, and more.
The inflatable projector screens are perfect for group activities on camping trips, at sleepovers, or during family movie night because you can choose the size of the projector and projected image depending on how far away from it everyone sits. In addition, since these inflatable screen projectors use air to blow up the projection surface, they're lightweight and easy to transport compared to standard flat-screen TVs.
How We Choose
When selecting inflatable outdoor projection screens, we focused on three key factors. We prioritized screens that were easy to assemble and disassemble, with clear instructions and minimal tools required. Then we looked for screens with high-quality fans that were powerful enough to inflate the screen quickly and efficiently, without being too loud or disruptive. Aditionally, we considered the design of each screen, including the size and shape of the screen, the quality of the projection surface for outdoor use.
---
VIVOHOME 14 Feet Indoor and Outdoor Inflatable Blow up Mega Movie Projector Screen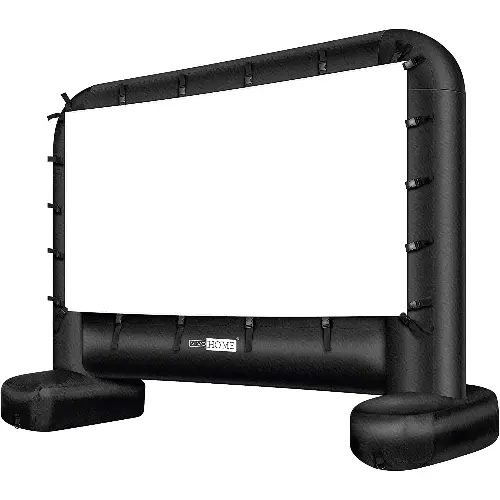 The VIVOHOME 14-Feet Indoor and Outdoor Inflatable Movie Screen is an excellent choice for anyone planning an outdoor show or hosting an outdoor movie night. It features a wide base, so that it's sturdy enough to withstand the wind.
The screen material is oxford cloth, meaning you get a theater-quality viewing experience without annoying wrinkles or lumps in the picture. This screen also supports both front and rear projection which makes it compatible with all projector types.
The removable screen makes cleaning and maintaining your screen an easy task. Along with a sturdy carry bag it comes with back yard stakes to make setup easy.
It takes just a few minutes to inflate with the included quiet built-in blower fan pump, so you can start showing movies immediately.
---
HuaKastro 14 Feet Inflatable Projector Screen Indoor and Outdoor for Family Movie Nights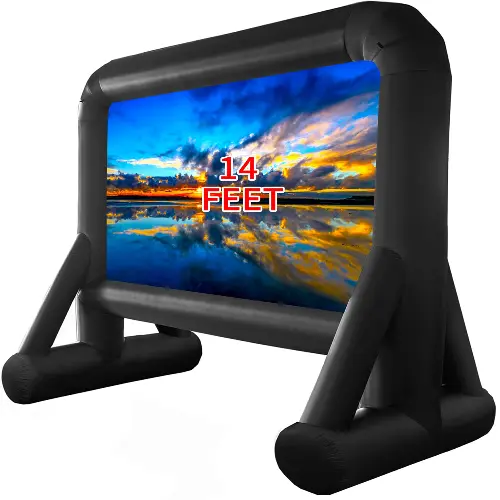 The HuaKastro 14' Inflatable Outdoor Screen is an excellent choice for anyone ready to host outdoor movie nights in their backyard. This inflatable screen is easy to set up and offers a high-quality image that rivals many outdoor inflatable movie screens today.
The white canvas material on this screen looks great against the black frame and is sturdy enough to withstand some wear and tear. The triangular brace on both sides adds extra stability, making this screen an excellent option for outdoor parties or other events.
It takes around two minutes to inflate fully using the included blower which you can place away from screen. The storage bag included makes transporting it from your garage to one location or another hassle-free. This model offers a lot of value for the price point, making it well worth considering if you're looking for an affordable outdoor movie screen.
---
Inflatable Movie Screens Outdoor, OUTTOY Inflatable Projection Screen with Quiet Fan and Storage Bag, Easy Set up, Mega Blow Up Screen for Backyard Movie Night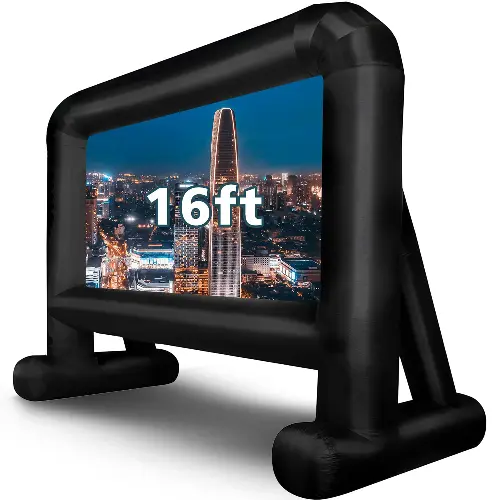 The Outto Toy Inflatable Movie Screen is an excellent option for kids backyard movie night or anyone looking to plan or host an outdoor movie night. This inflatable movie screen is easy to set up and can be used in various settings, including parks, camping trips, and backyard parties.
The 16ft size allows multiple people to gather and enjoy the show. It's also portable, making moving it from one location to another simple. The screen material used on this product is high-quality natural polyester fabric, which can be folded or washed without wrinkles or creases.
It's worth noting that this product does not have an inbuilt fan and instead an external blower is included. It does come with a storage bag that makes transporting or storing the screen easier when not in use. This inflatable movie screen will provide excellent value for money during your next big outdoor event!
---
PPXIA Inflatable Movie Screen 25ft Outdoor Movie Screens with Air Blower, Supports Front and Rear Projection Blow Up Screen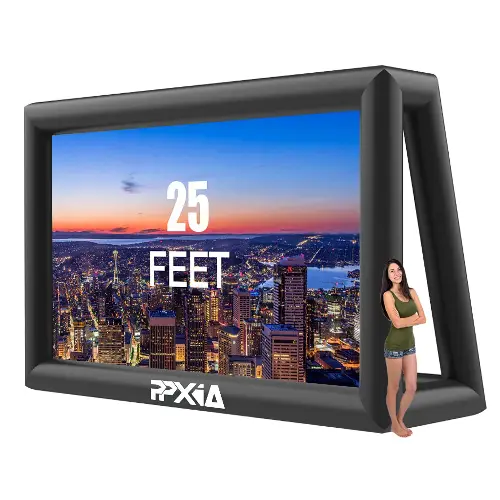 The PPXIA Outdoor Projector Screen is an excellent choice for anyone looking to bring the cinematic experience into their backyard. This screen has a 16:9 aspect ratio and supports both  front and rear projection, making it versatile enough to be used in various scenarios.
The screen material is 210D Oxford Cloth, which means you get a high-quality image that makes you feel like you are at a movie theater. The white display canvas is an anti-wrinkle silk cloth with no patchwork joints, so expect vibrant colors and clear images with minimal distortion.
The black frame is made of tougher oxford cloth to ensure durability - this will stand up to the elements without fading or fraying after extended hours of use. And when not in use, this portable projector screen folds into a compact bag for easy storage and transportation - perfect for camping adventures or other large outdoor gatherings!
---
30 FT Outdoor Inflatable Projector Movie Screen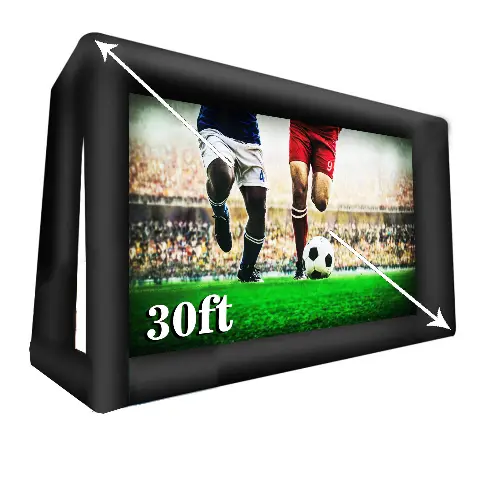 The TCheung Inflatable Movie Screen is our top pick for its impressive specs, features, and affordable price. In addition, this inflatable movie projection screen is big enough it can handle projection of up to 30ft, making it a great screen for movies or TV shows.
The Oxford cloth used on this screen is a durable material that can withstand the outside world and elements without fading or deteriorating over time. The oxford cloth is also perfect for easy cleaning, so you won't have to worry about any messes on your expensive screen.
The frame of this movie screen is also made of tough oxford cloth, allowing you to use it in more places without it losing shape or breaking easily.
Please Note: To fully enjoy the experience with such a large screen you will need access to a higher end projector.
---
Conclusion
In conclusion, inflatable outdoor screens are a fantastic addition to any event or gathering. With their ease of use, portability, and versatility, they provide a great way to enjoy your favorite movies, sports, or other entertainment in an outdoor setting. Whether you're hosting a backyard barbecue, organizing a community event, or just want to enjoy a movie under the stars with your family and friends, an inflatable outdoor screen is a perfect choice. So go ahead and start planning your next outdoor movie night or sports watch party, and let an inflatable outdoor screen take your entertainment to the next level.
If you found this article interesting, then check out our related articles: