Playsets can be a wonderful part of childhood! They give kids a place to run around, climb, and be active while allowing them to use their imagination as they pretend to be pirates, superheroes, or whatever else they can dream up (Shimmer and Shine is popular in our home at the moment).
Play sets can help kids develop physical skills, social skills, and even cognitive skills. Play sets come in all shapes and sizes but in our opinion, should always have at least one slide. Some play sets include swings, tables, kitchens, sandboxes, climbing walls, ropes, monkey bars and more.
You may want to choose a set with more than just the basics if you have older kids who will also be playing on it (or want it to be useful for longer) - maybe a clubhouse with multiple levels for kids to climb on or a ship with masts to navigate by climbing ropes.
The best playset for your yard really depends on your budget and the size of your yard, but also on how many kids will be playing on it at once. A playset with multiple levels gives younger siblings something lower to reach from when older siblings are playing too, so everyone gets their turn quickly without having to wait in line too long (or fight).
---
How We Choose
We've reviewed the best sets around to help you find the perfect addition to your yard. These sets are designed for smaller spaces, so they take up less room and offer plenty of fun activities. They also come with safety features to keep your kids safe while they play.
Look at our top picks below and find the perfect swing set for your family's needs!
---
Gorilla Playsets 01-0061-AP Chateau Tower Wooden Play Tower with Wood Roof, Slide, and Climbing Wall, Brown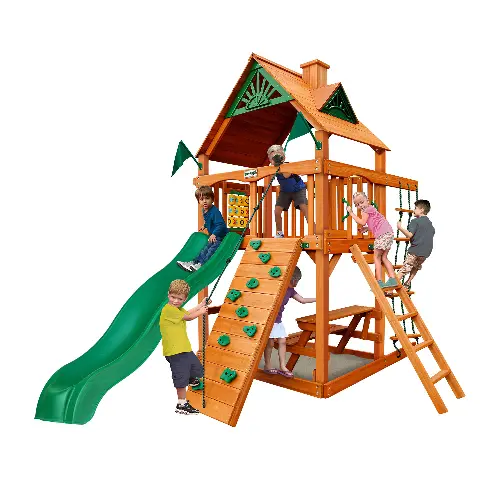 The Gorilla Playset Chateau Tower is a great option for anyone looking for a classy wooden play set. This playset comes complete with a slide, picnic bench built over the sandbox , tic-tac-toe panel, climbing wall, and more!
The play deck is protected with a tongue and groove roof that provides added safety for your kids. The alpine wave slide offers plenty of fun for the whole family, while the rock climbing wall features 10 climbing rocks to help kids scale the 5-foot height. The set also includes a play telescope to provide options with their imaginative playtime. For a little kid, it offers more of a challenge with the rope ladder and can help develop balance along with those important gross motor skills.
It's made from cedar, which is naturally insect and water-resistant to help it last longer. It also comes pre-stained with an amber finish to help it last for years to come. Once assembled, it'll take up a 14'6"l x 9'6"w space in your yard (should work for a small yard).
This playset can be assembled in one afternoon (the manufacturer states 6-8 hours), so you can get playing right away without having to wait any longer than necessary. It's also compatible with most residential playground equipment so it will work well with your existing setup.
---
Avenlur Modern Outdoor Backyard Swing Set Children's Rock Climbing Wood Playground Playset 2 Belt Swings, Clubhouse Fort, Windows, Ladder, Wavy Slide Toddlers, Kids Climbers Play Adventure Rock 3-11yr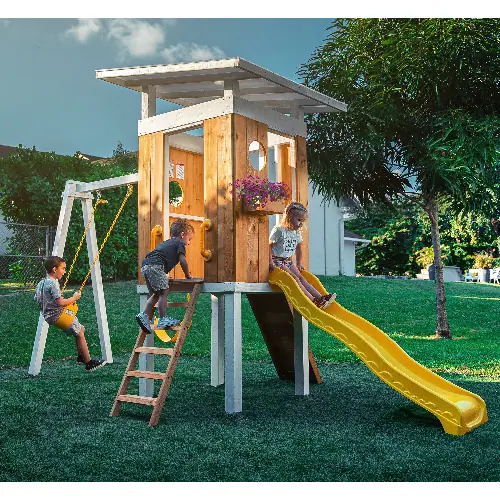 The Avenlur 6 foot Super Speedy Wave Slide is great for families with multiple kids. This swing set has space for up to seven kids at a time, making it ideal for birthday parties and other outdoor gatherings.
The wooden construction makes this product sturdy and durable, while the rock wall included adds an extra element of fun to your backyard adventures. Underneath the raised playhouse provides a place to store sand or dirt, while the ladder allows you to climb up high and take in the view from above.
This play set also includes a belt swing and rope chains perfect for little hands to hold onto. With so many features packed into such a compact design, this is sure to provide hours of fun for your whole family!
This play equipment is made from New Zealand Pine and comes pre-finished. The manufacturer states that the assembled size, including the slide and rock climbing wall, is 14.75' long by 6.67' wide, which should work well for a small yard that doesn't have a ton of extra space. The weight capacity is 450 lbs or 110 lbs per child.
The manufacturer doesn't say how long it's expected to take to assemble this swing set, but the reviews have said anywhere from 3 hours to 10 hours+ depending on your experience, number of helping hands, and probably some luck!
---
Lifetime 90440 Adventure Tower Swing Set, Green Playset Adventure Tower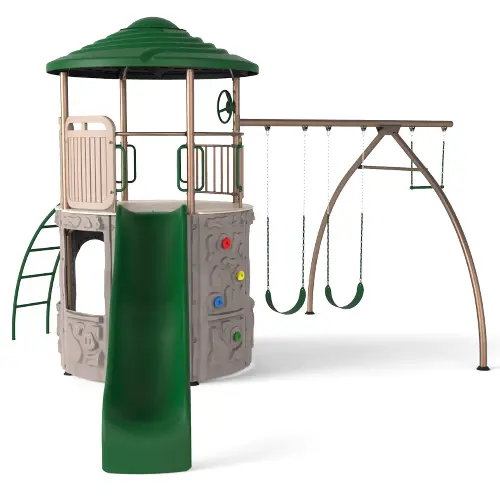 The Lifetime 90440 Adventure Tower is a large playset that provides plenty of room for multiple children to play together. The set comes with two belt swings, a trapeze bar, and a climbing wall. There are also a nine-foot wavy slide, an arched climber ladder, steering wheel, and two sturdy 3-D climbing walls.
This swing set features rubber grips on the swing chains to prevent pinching or snagging. The playset is constructed of high-density polyethylene (HDPE) and powder-coated steel to make it durable and will not require stain or paint. All-weather UV-resistant construction means the set will not crack, warp, rot, or splinter over time. The clubhouse has a rigid hardtop roof which provides additional safety from falls and impacts if the climber should fail in some way.
According to the Adventure Tower playset reviews, it isn't the easiest to assemble and may take longer than some of the other options on our list today, but gets rave reviews once up and running!
The manufacturer states the assembled dimensions are 16' 4" L x 16' 4" W which is bigger than most of the options on our list today, but still not huge. If you have a very small yard, make sure to check the measurements first since you do need extra space around the swing set for safe play.
---
Backyard Discovery Beacon Heights Elevated Playhouse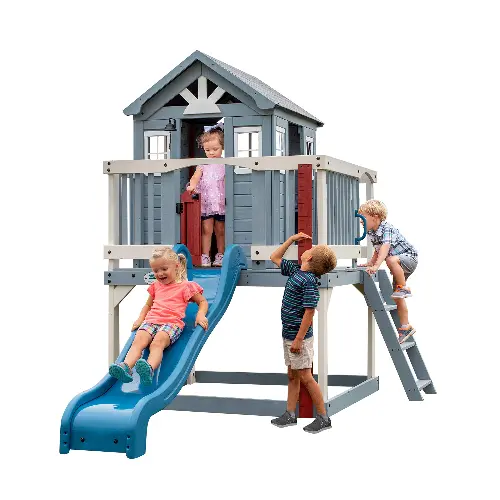 The Backyard Discovery Beacon Heights Elevated Playhouse is a truly spectacular little playhouse. It's sturdy and well-built, making it the perfect choice for parents who want their kids to have fun for many years to come.
The playhouse is designed to be safe from falls, with an elevated platform that provides extra headroom for little ones, but isn't super tall. The ladder is wide enough for easy access, while the included Growth Board can be used to track height growth so you can keep track of how tall your child gets over time.
The open design makes this a great place for imaginative play, too - there are plenty of fun details to discover on both the ground level and the platform, including a working bell and hinged door that opens up into a play kitchen complete with a toy blender that actually spins!
This play equipment complements a tiny yard space without being overbearing. It measures just over 10' long with the slide on and 6' wide, making it one of the smaller play sets on our list.
Backyard Discovery also sells additional accessories and fun options, like this pirate ship steering wheel and telescope, that can be added for a custom design and even more fun.
The manufacturer recommends a maximum of 6 children at a time with individual weights not exceeding 120 lbs each, but suggest 150 lbs is fine if a child is playing alone.
The manufacturer gives a full 2-year warranty and an extended 5-year warranty for wood rot and decay.
---
Backyard Discovery Beach Front All Cedar Wooden Swing Set, Large Upper Deck with Canopy, Ships Wheel, Play Telescope, Sandbox, Snack Bench, Rock Wall
The Backyard Discovery Beach Front All Cedar Wooden Swing Set is a top-of-the-line option for those looking to have the best swing set experience possible without taking up too much space. This is thanks to its size, durability, and versatile play options.
This play set features a large upper deck with a canopy that offers shade from the sun, making it great for those hot summer days. The set includes an 8-foot slide, two belt swings, a trapeze bar, a 5' tall rock wall, a built-in sandbox, and a snack bench. The climbing wall features hand/foot grips which can help develop those important balance and motor skills in your child.
The swing set is one of the most comprehensive swing sets on our list today. They were even able to pack in a small version of monkey bars on the side!
The manufacturer states that the max weight recommend is 150 lbs. per child when used solo or a max of 120 lbs. per kid for play activities involving multiple kids. Up to 9 kids can play on it at once. The assembled dimensions are listed as 14'1" l x 14'5" w.
---
In Conclusion
The best playsets for small yards can provide fun, interactive, and educational opportunities for children in a compact way that doesn't limit possibilities.
They should be durable, safe, and easy to maintain so parents don't have to worry while their kids play outside. The set should also come with plenty of fun accessories like swings, climbers, a rock wall or two, a slide, and a playhouse so your child can take advantage of a great variety of activities.
Hopefully, our list helped you find the perfect playset for your small yard!
---
Recommended Reads
---
Questions and Answers
How do I choose the right playset for my small yard?
To choose the right playset for your small yard, consider the following factors:
Space constraints
Measure your yard and figure out the play area where you want to put the playset.
Keep in mind that there should be a safe perimeter around the playset for kids to play without obstacles (or fall safely).
Age-appropriate features
Select a playset that caters to the age and interests of your children. Look for features like slides, swings, climbing structures, and playhouses that will engage them and promote their development.
Safety
Make sure the playset meets safety standards and guidelines. Check for sturdy construction, rounded edges, and secure fastenings.
Material
Choose a playset made from durable materials like cedar or other wood, or heavy-duty plastic. Each material has its pros and cons, so weigh them carefully based on your climate and maintenance preferences.
Adaptability
Look for a playset that can be easily customized, upgraded, or expanded as your children grow and their interests change.
Assembly and installation
Consider whether you want a ready-to-assemble playset or a custom-built one. Make sure that you have the tools and skills necessary for assembly, (or help from family and friends) or consider hiring a professional installer.
Budget
Determine your budget and look for swing sets that offer the best value for your money. Keep in mind that investing in a high-quality playset may save you money in the long run by avoiding frequent repairs and replacements, or even a shorter lifespan.
Warranty and customer support
Check the manufacturer's warranty and customer support to make sure that you can get assistance if any issues come up.
By taking these factors into account, you can make an informed decision and choose the perfect playset for your small yard.
---
What are the most popular materials for swing sets suitable for small yards?
The most popular materials for playsets suitable for small yards include wood, metal, and plastic. Each material has its advantages and disadvantages:
Wood
Pros
Wood swing sets, particularly those made of cedar, redwood, or pressure-treated pine, are durable, strong, and visually appealing.
They can easily blend with your yard's natural surroundings, providing a classic and timeless look.
Wood is also a renewable resource, making it an eco-friendly option.
Cons
Wooden swing sets can require more maintenance, like staining or sealing, to prevent rot, warping, or insect damage.
They can also be more expensive than metal or plastic options.
Metal
Pros
Metal swing sets, usually made of steel or aluminum, are known for their durability and strength.
They are generally less expensive than wooden playsets and require less maintenance.
Metal playsets are often lighter and easier to move or reassemble if needed too.
Cons
Metal playsets may be prone to rust, especially in humid climates, and can become hot to touch in direct sunlight (ouch). They might also lack the natural aesthetic appeal of wooden playsets, but that will depend on your personal preference.
Plastic
Pros
Plastic swing sets are often the most affordable and lightweight option.
They require the least maintenance and are resistant to rot, rust, and insect damage.
These types of swing sets are usually available in a wide range of colors and styles and are easy to clean.
Cons
Plastic swing sets may not be as durable or sturdy as wooden or metal alternatives, and they can fade or become brittle over time due to exposure to the sun and harsh weather conditions.
---
What is a minimalistic playset solution for extremely small yards that still offers entertainment for children?
If you have very limited space in your small yard and need a simple swing set solution, consider going for just swings or a stand-alone slide, that'll still be fun for your kids without taking up too much room in small yards.